Recovering Compensation For Bus Accident Injuries in Denver, Colorado
Bus accidents can be catastrophic and destructive. Whether you're in a car, on a bike, or are walking by, bus accidents are significantly more likely to cause serious injury and death. When a bus is operated negligently, it is a recipe for disaster. Additionally, buses are usually carrying large numbers of passengers, adding to the level of danger. As such, bus accident cases require a special level of skill and care. A personal injury attorney at Cheney Galluzzi & Howard can help you navigate what can be a trying time for you or your loved ones. They will fight for you every step of the way.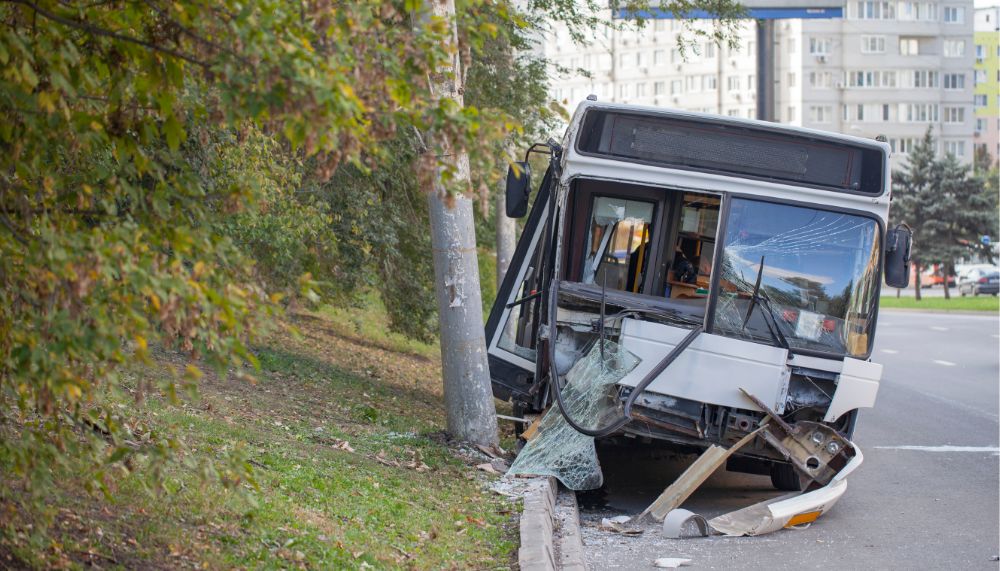 Colorado Bus Drivers Must Be Extra Cautious
Bus drivers and bus companies owe a heightened duty of care compared to the average driver. To be able to drive a bus or any vehicle over 26,000 pounds in Colorado, you need the proper licensing and certification. This means that because a bus is used to transport people, we expect that its driver will be even more careful than the average reasonable car driver. This can be useful as it is easier for the injured party to prove liability.
At the same time, bus accidents cases can be more difficult because of insurance adjusters. Buses are often owned by companies with very large insurance policies and as such accidents represent significantly more risk than the average car accident involving individuals. Insurance adjusters will often come to the scene immediately to begin building a case to deny liability and limit your ability to recover for your injuries.
People injured in bus accidents may be entitled to recover damages both for bodily injuries and injuries to their property. Bodily injury claims may include past and future medical expenses, loss of wages, pain and suffering, inconvenience, loss of enjoyment of life, physical impairment, and other types of damage. Our lawyers will work tirelessly to get you every dollar you deserve.
How Can a Denver Bus Accident Attorney Help Me?
Getting into a bus accident as a driver or a pedestrian can be a traumatic and damaging experience. A bus accident lawyer can assist you in multiple ways, including:
Knowledge of the Law / Help You File a Claim
Hiring an experienced attorney is vital when trying to file a bus accident claim. You will most likely be dealing with a great deal of legal proceedings you're unfamiliar with, which your lawyer can help navigate you through. In addition, filing a bus accident claim can be difficult as it may be dealing with local governments or large bus companies.
Represent You Against Big Bus Companies
When it comes to bus accidents, the companies that buses are a part of often have large legal teams and strong representation — all of which goes towards keeping their reputation in good standings. This is because, in an accident, the bus driver, the bus company, and the bus manufacturer all have the potential to be held accountable when something goes wrong. This is why having an attorney to represent you if your claim goes to trial is crucial.
Fight for the Compensation You Rightfully Deserve
Bus accidents are capable of immense damage due to the size of the vehicle that's involved. If you or your vehicle were hurt or damaged in a bus accident, then you deserve compensation — especially if you had to seek medical attention. Motor vehicle accidents can often cause long-term medical problems for those involved, as well as injuries caused by the initial crash. If you or someone you know were seriously injured in a bus accident, don't wait to get legal representation.
Lets You Focus on Recovering
After being injured in a bus accident, one of the last things you want to worry about is the complicated legal proceedings of your accident case. Hiring an attorney can help take some of that stress away so that you can focus on healing. Accidents involve a lot of paperwork and information gathering, especially with hospital bills and damaged vehicle expenses adding up. Let an attorney you trust organize your case and fight for the compensation you deserve while you focus on recovering.
Who Is Liable in a Bus Accident Case?
While bus accidents, like any accident, are unpredictable, there is more often than not still someone at fault for the situation that occurred. Of course, liability varies from situation to situation, but some of the most common people and groups that may be held responsible include:
Bus accidents that involve school or transit buses don't just involve the driver but the government as well. When a school bus or transit bus gets into an accident, the government is liable for the actions that occurred because these methods of transportation are technically government-operated. If your bus accident case involves government liability, it's important to note that your time to properly file a case may be shorter.
Bus companies can be held just as responsible for the actions of their employees in an accident as the employee themself. This is because the company is legally obligated to make sure they put safe drivers on the road that follow all rules and regulations. While not every bus accident is the driver's fault, if a bus company knowingly kept a negligent bus driver in their position, they could be liable for the accident that occurred.
Some bus accidents may not be the bus driver's fault at all, and instead, a third-party driver is the one who made a mistake. Whether a vehicle ran a red light and caused the bus to crash into oncoming traffic or the vehicle hit the bus, third party drivers are often liable in bus accidents as well. When an accident involving a bus and other vehicles occur, those involved are allowed to file a claim through the at-fault driver's insurance.
Buses are made to travel long distances and sustain harsh weather and road conditions. If a bus or vehicle manufacturer sold a vehicle that had faulty parts or worked improperly, they can be liable when an accident occurs. Faulty or broken parts of a bus can lead to it breaking down in unsafe areas or causing crashes due to things working improperly.
Bus Accident Claim FAQs
Q: Can you get compensation for a bus crash?
A: Bus passengers, pedestrians, and third-party drivers that were involved in a car crash where it was the bus's fault may be entitled to compensation. You first have to file a claim through insurance or some form of personal injury claim with the help of an attorney.
Q: Are bus drivers liable for accidents?
A: While the fault of every accident varies depending on what happened, if fault can be proven against the bus driver, they can be held liable for the accident.
Q: What do you do after a bus crash?
A: The first thing you need to do after you've been involved in any sort of crash is to ensure your safety. This involves moving yourself to a location where you are safe from the accident and oncoming traffic. You will most likely receive medical attention at the scene of the accident, but you may require more. After the initial accident has occurred and you've had time to organize yourself, that's when you can begin to handle the economic and legal aspects of the situation, such as hiring a lawyer to represent you.
Q: Do bus drivers owe a duty of care?
A: In the state of Colorado, bus drivers owe a duty of care. This means that they owe an extra step of safety and protection to their passengers than a regular vehicle.
Contact Our Denver Bus Accident Attorneys For A Free Consultation
Bus accidents can be traumatic. The last thing you need is to go through the process alone. Whether you were seriously injured in a bus accident or your car was totaled by a negligent bus driver, our team here at Cheney Galluzzi & Howard is prepared to represent you through it all. If you or a loved one has been seriously hurt in a bus accident, we are here to help. Call our law office in Denver at 303-209-9395 or contact us online to schedule a free consultation.