Arvada, CO Personal Injury Attorney
Your health and well-being are a top priority. Most people do their best to avoid accidents, injuries, and disease. Unfortunately, we are not always in control of our own health. Other people's actions, beliefs, and decisions can affect us. One person's poor decision or negligence can lead to serious accidents and injuries. Even if you do your best to take all necessary precautions to stay safe, you can still find yourself in harm's way through no fault of your own.
Though we cannot necessarily prevent others from inflicting bodily injury upon us, we can seek compensation for their negligence when they do. Through a personal injury claim, you can earn a settlement that will help you to pay for medical bills and other unexpected expenses associated with your injury. Though this money will not undo your pain and suffering, it can help you to afford the resources and care necessary for recovery.
Personal injury law is complicated, but with the help of an experienced personal injury attorney, you can earn the compensation that you rightfully deserve.
Cheney Galluzzi & Howard: Your Arvada Personal Injury Attorneys
When you suffer an injury because of someone else's actions, it can be difficult to know where to turn. Not only do you need to find an attorney, but you must also focus on healing and recovering from your injury. Fortunately, our team at Cheney Galluzzi & Howard makes this process easy.
For many years, our staff has been helping people put their lives back together after an injury. We have seen cases of all kinds and severities, each of which added to our vast and well-rounded experience in the field. We have the background and resources to build a successful case on your behalf, giving you the best possibility of securing a proper settlement.
We use creativity, experience in the field, and passion for justice as our guiding principles. Our team is here to work with you on your Arvada personal injury case, no matter what the details may be.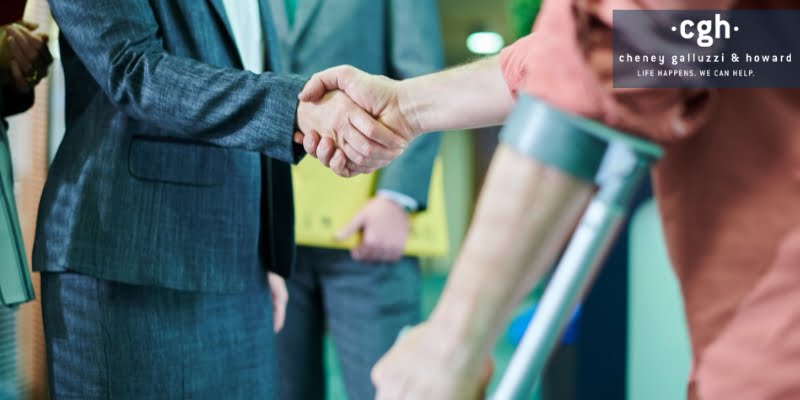 What Is a Personal Injury Claim?
Some accidents and injuries in life are unavoidable or are the result of coincidence. In these situations, no party can be held responsible for the damage, as the situation is beyond anyone's control. However, this is not the case in all scenarios. Often, one person's negligence, malice, or poor decision-making is the direct cause of accidents and injuries. In these cases, you can file a personal injury claim against the responsible party.
Personal injury claims hold people responsible when they neglect to follow their legal obligations and their neglect resulted in an accident or injury. For example, if you are in a car accident because another driver was texting and driving, you can file a personal injury case against them. Drivers are responsible for focusing on the road while they drive. If a driver decides to text while driving, they are neglecting their obligations as a driver. This negligence makes them liable for damages that occur as a direct result of their action. You can hold them financially responsible through a personal injury claim.
If you win your personal injury case, you can expect that the settlement will cover:
Medical expenses associated with the accident
Compensation for any time you took off of work to heal
Compensation for pain and suffering
Repayment for physical damages associated with the accident, such as car repairs
The specific compensation for each case varies depending upon your unique situation, the damage that was done, and how much responsibility the other person holds for the accident.
Why Do I Need a Personal Injuries Attorney?
Some people attempt to argue their own personal injury case in court, though this is never a good idea. Though you may feel as though your case is straightforward, your opponent's attorneys will work diligently to prove that their client did not cause the damage that you claim. Without the resources to refute their arguments, you will likely lose your case and any chance at a financial settlement.
These cases have a lot at stake. Many families cannot afford unexpected medical bills, time off of work, or ongoing care after an accident. If you wish to keep your family secure, you need to fight for a proper personal injury settlement in court. This money could be the difference between ongoing financial stress and proper medical care and attention.
Finally, it is important that you focus on your own health and healing while your case develops. Though you cannot control what has happened to you, you can take the time and space to properly heal from it. By resting and healing, you give yourself the best chance to achieve a full recovery. If you add stress to your situation by trying to argue your own court case, you will not only likely lose but will also impede your healing and lead to long-term pain.
It is best to find an attorney to represent you if you want to secure a fair settlement and afford the time to heal fully.
Personal Injury Law and Car Accidents
Car accidents are one of the most common types of personal injury cases. This is because car accidents occur frequently, and one person is usually at fault.
The burden of proof that the other person acted negligently at the time of the accident will be on you and your attorney. Common types of vehicle negligence include:
Distracted driving
Texting, talking on the phone, or using apps while driving
Driving while under the influence of alcohol or drugs
Speeding
Reckless driving
Eating while driving
There are many other examples of ways that drivers can be negligent on the road. Any time a driver fails to follow all road rules and laws, they are acting negligently and can be charged in a personal injury case if they harm someone.
Though negligence accounts for a large percentage of car accidents, some of them are due to weather, poor road conditions, or other acts of nature. In these situations, personal injury cases do not apply if everyone involved was following the law.
Personal Injury Law and Premises Liability
When you go out to a bar, restaurant, store, concert venue, or other business, you entrust your health and safety to the owners of the building, perhaps without even thinking about it.
Business owners are legally obligated to keep their facilities safe for their patrons. If they fail to do this, they are being negligent. Therefore, they can be charged with a personal injury case if someone gets hurt because they neglected to fulfill their legal responsibilities. Some key standards that public buildings must meet include:
Walkways that are clear, dry, and safe to use
Safe stairways with reliable handrails
Clear signs that indicate off-limit areas, unsafe areas, or areas that are wet
If you are in a public place and fall because the building owner failed to follow one of the above standards, you have the right to seek compensation through a personal injury case.
Personal Injury Law and Dog Bites
Dogs are generally considered to be friendly. Despite this, dog owners have the legal responsibility to ensure that their pet does not harm anyone else. To do this, they must keep their pet on a leash in public and keep it away from stressful situations.
When a dog owner fails to control their animal, people can get hurt. Dog bites can be serious and require ongoing medical care. If you have been bitten by a dog, a personal injury claim may be right for you.
It is important to note that there are a limited number of situations in which a dog owner cannot be charged for a dog bite. This is true when:
The victim provoked the dog
The victim entered a property without being invited
In most other situations, you can hold a dog owner responsible if their canine bites you.
Personal Injury Law and Wrongful Death
Unfortunately, some accidents do not simply result in injuries. On some occasions, an individual passes away as the result of someone else's negligence. These cases are extremely painful and unfortunate, and they fall under the umbrella of a wrongful death case.
In these situations, the family takes legal action rather than the victim. Though the compensation cannot ever fully rectify the situation, it can help provide for your family in the absence of their deceased loved one. Often, the settlements for wrongful death cases include:
Funeral and burial expenses
Lost income
Lost earning potential
Pain and suffering
Any medical bills accrued before the victim's death
These costs are often significant, and a wrongful death settlement can help to alleviate some of the unexpected financial stress that the family experiences.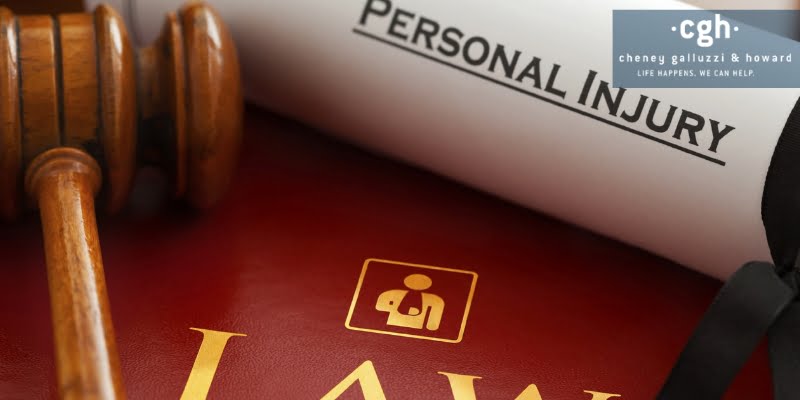 How to Prove Negligence in a Personal Injury Case
The key to scenarios in which a personal injury claim is valid is the presence of negligence. To hold someone financially responsible for the accident, you must prove that they acted negligently when they caused it. Doing this can be complicated and will ultimately depend on your unique situation. Your Arvada personal injury attorney can help you to build your case.
Your attorney will prove negligence through evidence. Taking the following steps can help to develop your case:
Take photos and videos of your injuries, the accident scene, damage, etc.
Get the names and phone numbers of any witnesses
Do not admit fault, apologize, or talk about the situation until you have talked to your attorney
Note any police or first responders at the scene and determine how you can get access to their report
The more evidence you can accrue, the more airtight your case will be.
Personal Injury Accident FAQs
Q: What Percentage Do Most Personal Injury Lawyers Take?
A: A general industry average is about 33% of the settlement. However, every attorney and law firm charges differently for their services. While some take a percentage, others charge hourly. Be sure to discuss financial specifics with any potential attorneys before you hire them. If you do not, you could lose your legal representation later if you are unable to pay.
Q: When Is a Personal Injury Attorney Required?
A: If someone else causes an accident or injury, you may have a personal injury claim. Anytime you are navigating a personal injury case, you should hire an attorney right away. These cases can be difficult to build, especially without experience in the industry. Though the court does not specifically require an attorney, you should always hire one for your personal injury case.
Q: What Does a Personal Injury Lawyer Do?
A: Your personal injury lawyer will collect evidence for your case. They will then build an argument that proves that the other person caused your injuries through their negligence. They will also prove that your injuries require medical care and have caused you significant suffering. If they are successful, the court will determine an appropriate settlement.
Q: What Is a Standard Personal Injury Settlement in Colorado?
A: Unlike many states, Colorado puts a cap on non-economic damages that a victim can claim in a personal injury case. The cap is $500,000, so most personal injury settlements do not exceed that amount. The average settlement lies between $3,000 and $75,000. Ultimately, your settlement amount will depend upon the severity of your injuries, the offender's hubris, and how much responsibility they carry for what happened.
Contact Cheney Galluzzi & Howard
Our team at Cheney Galluzzi & Howard understands how frustrating and daunting personal injury cases can be. Most people suffer emotionally and physically when they go through this process, which can make everything more difficult and stressful. Our team is here to ease as much of the work as possible. Our only objective is to help you to rebuild your life and get back to doing what you love. We are passionate about seeking justice for personal injury victims, and we are here to help you with any type of case you may have.
For more information on how we can build your personal injury case, contact Cheney Galluzzi & Howard online today.