Lone Tree Personal Injury Attorney
A personal injury is any incident in which one party's actions harm another party. Each state has its own laws pertaining to personal injuries, and these incidents happen in unpredictable ways. Some personal injury claims revolve solely around financial losses, while others pertain to extensive physical harm and permanent disabilities. No matter how a personal injury happens, the victim and their family must know their rights in terms of recovering compensation for their losses and navigating the complex legal proceedings they face in the aftermath of their experience.
Experienced Representation for Personal Injuries in Lone Tree
If you or a family member is recovering from physical injuries and/or financial losses resulting from another party's misconduct or lack of reasonable care, you are likely to have grounds to file a personal injury claim against them under state law. The right attorney can provide invaluable guidance in this legal effort, helping you make more informed decisions about your case and uncovering every available channel of compensation that may improve your recovery.
The purpose of a personal injury claim is to make the victim "whole" again after suffering injuries and financial damages resulting from the actions of another party. The attorneys at Cheney Galluzzi & Howard have extensive experience in Colorado personal injury law and routinely help clients from the Lone Tree area with their civil cases. If you know someone else is liable for your personal injury, we can help you hold them accountable for the damages resulting from their actions.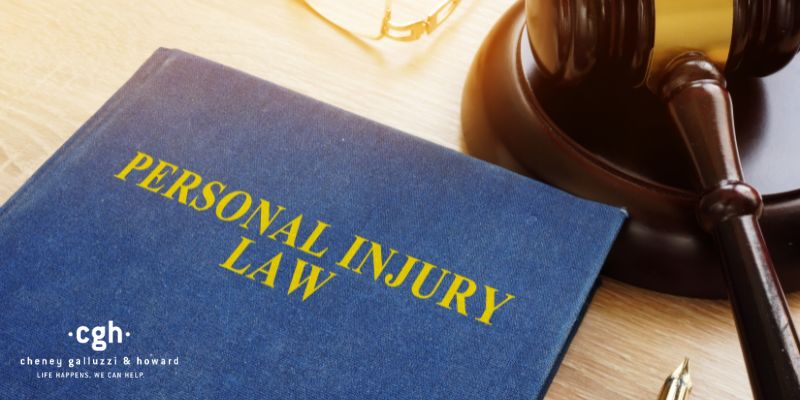 Types of Personal Injury Cases We Accept
Whenever you need to hire a personal injury attorney in Lone Tree, it's vital to choose a legal representative who has experience handling cases like yours. While personal injury is a broad area of civil law, there are many types of cases that qualify as personal injury claims, each raising different concerns and complications for plaintiffs and their families. At Cheney Galluzzi & Howard, our team has years of professional experience handling cases involving:
Car accidents, which happen every day throughout the country for various reasons. If any other driver is responsible for the accident you recently experienced, our firm will assist you in filing an auto insurance claim for some immediate relief from your damages, and if this isn't enough to fully repay your losses, we will help you build a personal injury claim.
Truck accidents, which often cause more damage than other accident claims and raise more complex questions of liability. It's possible for the truck driver and/or their employer to bear fault in this type of case, and navigating related insurance claim filing proceedings is likely to be more challenging as well.
Motorcycle accidents. Motorcycles offer no physical protection in a crash, and the risk of catastrophic or fatal injury is much higher in this type of vehicle accident than it is in most other vehicle accidents.
Slip and fall accidents. If you or a loved one suffered a slip and fall injury on someone else's property, you likely have grounds to file a premises liability claim against the property owner. All private property owners in Lone Tree and throughout the state are legally required to ensure their properties are safe for lawful visitors and guests, and failure to do so could lead to severe personal injuries.
Dog bite claims. While most people are fortunate to have only positive interactions with man's best friend, the reality is that any dog is capable of inflicting severe injuries on a person unexpectedly. The state upholds the strict liability rule for dog bites, so a dog owner is entirely responsible for any harm their pet inflicts on another person as long as the victim did not provoke the attack and they were not trespassing when they were attacked.
Wrongful death. If a personal injury proves fatal for the victim, their family has the right to file a wrongful death suit against the party responsible for the death. This type of claim is similar to a personal injury claim in some ways and very different in others. You need experienced and compassionate legal representation to reach the best possible outcome in this type of emotionally challenging case.
Whatever your personal injury claim entails, you want a Lone Tree personal injury attorney on your side as you seek compensation. When you hire Cheney Galluzzi & Howard to represent you, our goal is maximizing your recovery in the most efficient manner possible.
Claimable Damages in Lone Tree Personal Injury Claims
Colorado law allows the plaintiff in a personal injury claim to seek full repayment of their economic losses, which can include medical expenses, lost income, and property damage. It's important for the plaintiff to remember that they not only have the right to seek recovery from the immediate damages following their experience but also the long-term impact of their personal injury.
When you have Cheney Galluzzi & Howard representing you, we will help you secure compensation for any and all medical expenses you face due to the defendant's actions, and this includes both immediate and long-term treatment costs. Similarly, we can help you obtain repayment for your lost wages and your lost ability to earn money if you are unable to return to your job due to your injuries. Property damage can include the cost of repairing your home, vehicle, or any other personal property damaged by the defendant's actions.
State law also allows a personal injury plaintiff to seek compensation for their pain and suffering. State law limits this type of compensation in most personal injury claims, but a seasoned attorney can help you maximize this aspect of your recovery. Any plaintiff who has suffered permanent damage from a defendant's actions may secure substantial compensation for pain and suffering as long as they have reliable legal counsel on their side.
Personal Injury Lawyers FAQs
Q: How Much Compensation Can I Recover for My Personal Injury?
A: State law allows a personal injury plaintiff to seek full repayment of all the economic damages they suffered because of the defendant's actions. This includes medical expenses, lost income, and property damage, including anticipated future losses that have not yet materialized. State law also allows the plaintiff to recover compensation for pain and suffering, but non-economic damages are limited. An experienced Lone Tree personal injury attorney can offer an estimate of your claim's potential value.
Q: Will I Get More Settlement Money With a Lone Tree Personal Injury Attorney?
A: A seasoned personal injury attorney can help their client uncover all available compensation, maximizing their recovery. When you hire Cheney Galluzzi & Howard to represent your personal injury claim, we work to secure maximum compensation for your losses in the most efficient manner possible. If you are concerned about the cost of legal representation, remember that with a contingency fee, you will only pay a percentage of your final case award to your attorney, and only if you win.
Q: How Does a Contingency Fee Work for Legal Representation?
A: Contingency fee billing makes legal representation more accessible to those who do not have the financial flexibility to afford expensive hourly legal fees. The attorney does not charge an upfront retainer fee, and there are no ongoing fees throughout the case. Once the attorney wins compensation for their client, the client pays a predetermined percentage of their case award as their legal fee. If for any reason their attorney cannot secure a settlement on their behalf, the client pays nothing.
Q: What If I'm Partly Responsible for Causing My Personal Injury?
A: Colorado is one of many states to uphold a modified comparative negligence law. Under these statutes, a plaintiff will lose a portion of their personal injury compensation to reflect any shared fault they bear for causing their claimed damages. For example, if the plaintiff is 20% to blame for their damages, they lose 20% of their final compensation. Under the modified comparative negligence statute, plaintiffs lose the right to claim compensation at 50% fault. If the plaintiff is found to be 50% or more at fault for their claimed damages, they lose the right to claim compensation from the defendant.
Q: Is It Worth Hiring a Lone Tree Personal Injury Attorney?
A: An experienced Lone Tree personal injury attorney will make each part of your civil claim easier to handle. Having an attorney means you have a better chance of getting the result you hope for. While you may be able to identify immediately obvious damages you can claim, the right attorney can uncover additional avenues of compensation you may not have realized were available to you. Even after taking their contingency fee into consideration, they could help you secure far more compensation than you initially expected.
The attorneys at Cheney Galluzzi & Howard have spent years representing clients in all manner of personal injury claims. We take time to develop individualized legal strategies that address each client's unique concerns as they work toward recovering their losses. If any other party is to blame for your personal injury, we can help you maximize your recovery. Contact our team to schedule a consultation with an experienced, trusted Lone Tree personal injury attorney with your case.