Motorcycle Accident Attorney Denver, Colorado
Motorcycles are popular vehicles throughout the Denver, CO area. While these vehicles can be very fun to operate, it's vital for every rider to acknowledge the inherent risks of motorcycling. Even when riding conditions are perfect and the rider is experienced, devastating accidents can occur due to the unpredictable actions of other drivers. If you or a family member recently sustained injuries in a motorcycle accident caused by someone else, you are likely entitled to compensation for your damages under Colorado's personal injury laws.
Motorcycles offer no physical protection to riders when accidents occur, and most motorcycle accidents result in catastrophic injuries for riders and motorcycle passengers. Cheney Galluzzi & Howard can provide the meticulous and compassionate legal representation you need after experiencing a motorcycle accident someone else caused. If another driver is to blame for your serious injuries, pain, suffering, and various economic losses, you should not be left to pay for the damage yourself.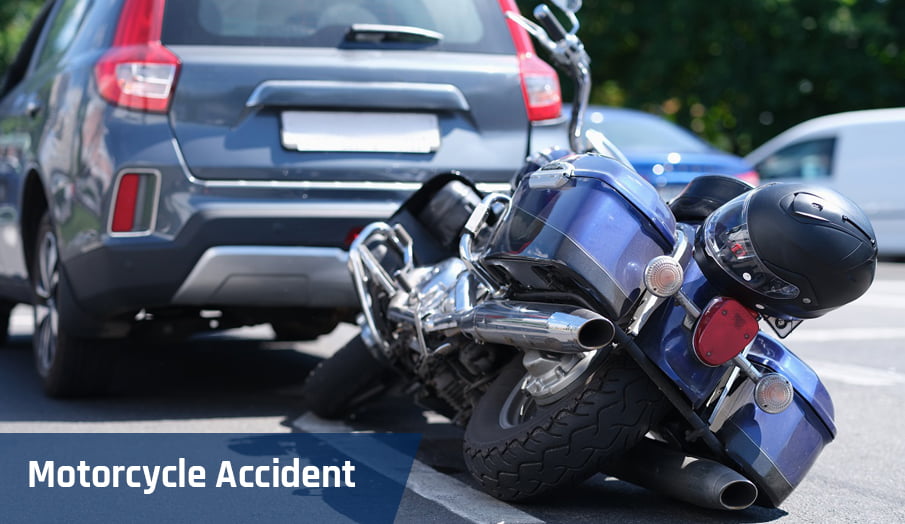 Why Should I Hire a Motorcycle Accident Lawyer in Denver, CO?
If you are wondering why you need legal counsel after a motorcycle accident, it is essential to consider the various steps involved in a civil claim and how an attorney can potentially help you navigate these steps more effectively than you could on your own. Filing a personal injury claim requires meeting very strict filing requirements and other deadlines with the Denver courtand making even small mistakes with your initial case paperwork can significantly delay the court's processing of your case. Some errors could even lead to a case being thrown out before it begins.
An experienced Denver motorcycle accident lawyer can help you meet the procedural requirements of their case with confidence. Additionally, an experienced personal injury attorney is more likely to maximize your compensation as they know the various avenues of compensation available to a motorcycle accident victim. If you attempt to handle your case alone, you not only must do so while managing the injuries and other effects of the accident, but you also risk settling for much less than an attorney could secure on your behalf. Any plaintiff concerned about the potential cost of their attorneys' fees should know that their legal expenses are likely to be substantially less than they stand to lose by attempting to manage their case without representation.
Damages and Compensation in a Motorcycle Accident Claim in Colorado
Motorcycle accidents can happen for many reasons, and even the most careful riders cannot always predict how other drivers nearby might behave at any given time. If another driver caused your recent motorcycle accident due to distracted driving, driving under the influence (DUI), or aggressive driving, you likely have grounds to file a personal injury claim against them. Colorado's personal injury laws allow a plaintiff to claim compensation for any and all damages resulting from a defendant's negligence. Your motorcycle accident claim is likely to include:
Property damage. The at-fault driver is responsible for your vehicle repair costs or the actual cash value of your vehicle if it was damaged beyond repair in the accident.
Medical expenses. You can claim compensation for all medical expenses resulting from the accident. This includes immediate medical expenses like hospital bills as well as long-term medical expenses if you require ongoing treatment and/or rehabilitation for severe injuries.
Lost income. Your motorcycle accident may leave you unable to work for an extended time. You can claim wages lost while you were recovering, and you can also claim compensation for lost future earning potential if you are disabled from your motorcycle accident and unable to work in the future.
Pain and suffering. Motorcycle accidents are traumatic experiences that cause painful injuries. Your Denver motorcycle accident attorney can help you determine a reasonable amount of pain and suffering compensation for your claim within the limits assigned by Colorado state law. Thisamount is determined based on the severity of your injuries, how long you are likely to experience pain from those injuries, and whether you developed a permanent medical condition or disability.
To successfully secure compensation for your motorcycle accident damages, you and your attorney must identify the party you believe to be responsible for causing your motorcycle accident and provide the court with a complete list of your claimed damages. Additionally, you and your legal team must prove that your damages are the direct results of the defendant's negligence and not some other cause.
Legal Help For Motorcycle Accident Victims
Motorcycles can be a lot of fun. Millions of Americans enjoy riding them. And Colorado is a motorcycling hotspot, offering unmatched natural beauty and vistas not found elsewhere.
But driving a motorcycle can be dangerous, especially with other careless drivers on the road. As you might expect, motorcycle accidents have a higher rate of fatalities than car, truck or bus accidents. This is because motorcycles offer much less protection than a car.
When the driver of another vehicle acts negligently and causes an accident, the results can be deadly.
Because of that, most drivers go out of their way to be safe around motorcycles. They give them plenty of space and check twice before pulling out onto the road or changing lanes. However, not all drivers are as attentive as they need to be. Sometimes, people cause accidents. When they do, you need help from an experienced personal injury lawyer.
Pursuing The Compensation You Deserve
A motorcycle is simply no match for another type of motorized vehicle. Even if you take every possible precaution, injuries which occur in a motorcycle crash can still be catastrophic.
Our attorneys will help paint a complete picture of your losses in order to help you recover the full and fair compensation you deserve.
Should I Talk To Their Insurance Company After The Accident?
Proving Fault for a Motorcycle Accident in Denver, CO
Obtaining compensation in a motorcycle accident claim requires that you prove the defendant was negligent in some way that resulted in yourclaimed damages or that they acted in an intentionally harmful or criminal way that caused these damages. When it comes to proving negligence, you must provide evidence showing the defendant owed you a duty of care in the situation in question, breached that duty of care in some way, and that your damages resulted directly from this breach of duty of care. If the defendant caused a motorcycle accident due to intentionally harmful actions or criminal activity, the defendant may face criminal prosecution from the state in addition to a civil personal injury claim.
An experienced Denver motorcycle accident lawyer can help younavigate Colorado's motorcycle laws and prove a defendant's liability in several ways. Expert witnesses may help prove how an accident occurred and establish a defendant's liability beyond any reasonable doubt. Eyewitness testimony from those who saw the accident occur may prove beneficial to your case, and your attorney will also closely examine any physical evidence from the scene of the accident that may help establish liability for your damages.
Any motorcycle accident claim has the potential to escalate into a complex legal battle and having reliable legal counsel on your side for this ordeal is an invaluable asset. Cheney Galluzzi & Howard can provide the legal representation you need to face your motorcycle accident claim with confidence. If you are ready to discuss your options for legal recourse after another driver caused a motorcycle accident and injured you in Denver, CO, contact Cheney Galluzzi & Howard today to schedule a consultation with a reliable Denver motorcycle accident lawyer.