Denver Car Accident Attorney
Car accidents happen every day in the Denver, CO area and are a leading cause of accidental deaths and injuries throughout the United States each year. When car accidents occur, it's vital for those injured to determine fault for the accident and know their legal rights when it comes to ensuring their recoveries. If you or a loved one sustained injuries in a car accident that someone else caused, the Denver car accident attorneys at Cheney Galluzzi & Howard can help you recover your losses.
Even an apparently straightforward car accident claim can transform into a complicated legal battle in many ways. Fault for your recent accident may seem perfectly clear at first, but it's possible for many issues to arise that complicate your path to recovery. Additionally, you will likely need to file an insurance claim as your first step toward recovery after a car accident in Denver, and dealing with insurance companies is rarely easy. Cheney Galluzzi & Howard can help you understand your recovery options and provide the legal representation you need to approach your car accident claim with confidence.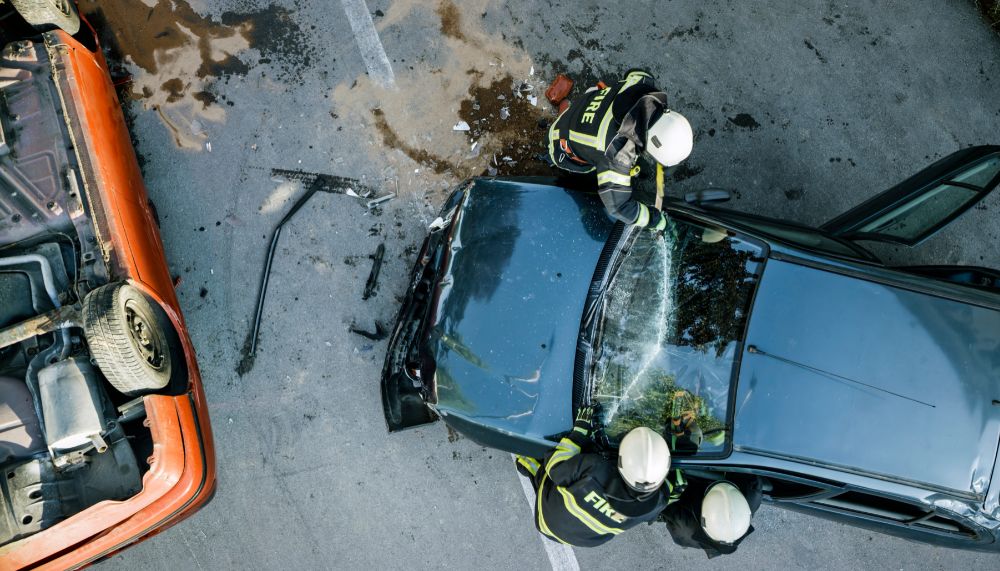 When to Hire an Accident Attorney in Denver?
The stress of a car accident can be overwhelming, and the first thing on your mind is unlikely to be a phone call to an attorney. Your primary priority is to get medical care, but your next step should be to contact an attorney. Despite being injured, you should be aware that others may try to take advantage of you. For instance, if an insurance company offers you money to settle your claim, make sure you get advice from your attorney before accepting any potential financial arrangement. Both the at-fault driver's insurance and your own no-fault insurance might try this tactic.
An experienced attorney can help with the many different legal aspects that come along with car accidents, such as filing insurance claims, proving who is at fault, and more. Attorneys specializing in car accidents, like our lawyers here at Cheney Galluzzi & Howard, fight for their clients to get the compensation they deserve and ensure their recovery process is at the forefront of all legal proceedings. The last thing you need to be stressed about on top of going through a car accident is all the legal aspects that come with it. By hiring a car accident attorney, the process can be made much easier for you.
Why You Need an Auto Accident Lawyer in Denver, CO
You may believe you can handle your recovery after a car accident unassisted, and it is technically possible for a car accident victim to recover compensation without the help of an attorney. However, if you choose this path, you will not only need to navigate complex legal statutes and meet strict court filing deadlines, but also fulfill these requirements at the same time you are managing the aftermath of your accident.
Many car accidents cause painful injuries and economic losses, and the initial effects of a car accident can quickly create compounded financial problems for the victim. Additionally, meeting the court's requirements while struggling with a painful recovery and mounting economic strain is incredibly challenging. Instead of risking your recovery and taking on more stress than you are already experiencing, have an experienced Denver car accident lawyer handle your case on your behalf. Your attorney is not only more likely to succeed in obtaining compensation for your losses, but also more likely to uncover channels of compensation you would have likely overlooked on your own.
Dealing With Insurance After an Auto Accident in Denver, CO
Colorado uses a fault-based system for handling car accidents. A fault-based system allows drivers involved in an accident to file their claim through the driver at fault's insurance, whereas in no-fault states, a driver has to file through their own insurance regardless of who caused the accident. This means that all drivers must carry auto insurance that provides at least $25,000 in bodily injury liability coverage for one person in one accident, at least $50,000 in bodily injury liability coverage for multiple people injured in one accident, and at least $15,000 in property damage liability coverage for a single accident. While these minimum requirements may seem sufficient to fully cover the damages of a car accident, many motor vehicle accidents result in damages that easily exceed these requirements.
If another driver caused an accident with your vehicle in Denver, CO, you have the right to file a claim against their auto insurance policy. The insurer must handle and investigate your claim in good faith, but these organizations tend to look for any reasons they can find to reduce or deny claim payouts. Having a Denver car accident attorney draft and sign your demand letter to the insurer will significantly reduce the chances of the insurer delaying, denying, or otherwise interfering with your claim. Cheney Galluzzi & Howard can assist you in recovering the maximum compensation from the at-fault driver's insurance policy. If you have remaining damages that insurance will not cover, we can help you take further legal action against the at-fault driver.
Common Causes of Car Accident Claims in Colorado
Some of the most commonly cited causes of car accidents in Denver, CO include:
Distracted driving
Unfortunately, distracted driving is a relatively common cause of car accidents, not only in Denver but around the country. Distracted driving is defined as anything that diverts the driver's attention away from the road and surrounding traffic. Distractions can include anything from changing a radio station to looking at a GPS or phone. According to the National Highway Traffic Safety Administration (NHTSA), more than 3,000 deaths were due to distracted driving, and more than 400,000 injuries came from distracted driving in 2020.
Driving under the influence (DUI)
Driving under the influence of drugs or alcohol is not only dangerous, but it affects more than just the driver who makes the decision. When you're under the influence, your reaction time and judgment are not the same as when you're sober. In fact, they're much worse. This results in drivers being unable to correctly respond to a variety of situations on the road and causes accidents that are often severe. Accidents caused by DUIs are commonly known for having more severe damage to the vehicles involved as well as more serious injuries than those of other kinds of accidents. The NHTSA analysis of accidents involving drivers under the influence found that, on average, 28 people a day in the United States die due to drunk driving. If you or someone you love were affected by someone who was driving under the influence, contact an attorney to help you get the compensation and help that you deserve.
Speeding
Speeding can become dangerous to both you and other drivers quickly. The roads you travel on were designed by experienced engineers and technicians who determined what speed limits would work best for the road and the traffic that would be on it. When ignoring a speed limit, you're not only putting other drivers and pedestrians at risk but yourself, too. Speeding increases the risks of accidents as well as the severity of injuries when they do happen.
Moving violations
Moving violations are when a vehicle makes a violation of the road law with a vehicle in motion. The most common moving violations that occur are when a driver runs a stop sign or red light. Moving violations can easily cause accidents due to a driver not following the proper rules of the road and other drivers assuming they are. Other examples of moving violations that can potentially cause accidents include failure to yield, failure to signal, not stopping for pedestrians, and more.
Vehicle and part defects
Sometimes vehicle-related issues can be more dangerous than you think. Faulty and defective equipment alike both have the potential to cause accidents if they don't allow the driver to operate their vehicle properly. It's also important to note that it is the driver's responsibility to ensure their car is taken care of and working properly — this includes getting faulty or defective areas of their vehicle looked at by professionals. However, sometimes even the newest equipment can malfunction, like a GPS telling a car to turn the wrong way.
Dangerous road conditions
Sometimes the weather can make road conditions worsen quickly. In cases of poor weather and road conditions, it's crucial for every driver to take extra measures to ensure the safety of themselves and others. On the other hand, sometimes roads can be dangerous even when the weather is fine. Sometimes construction work or dangerous areas of roads aren't signaled to or labeled correctly, causing accidents due to confusion or lack of information for the drivers on the road. If you were in an accident involving mislabeled roadways, construction, or other dangerous conditions, it's important to file a claim quickly, as these often deal with your local and state governments.
When a car accident occurs because of the actions of another driver, anyone injured by those actions has the right to file an insurance claim and take further legal action against the driver if insurance cannot fully cover their losses.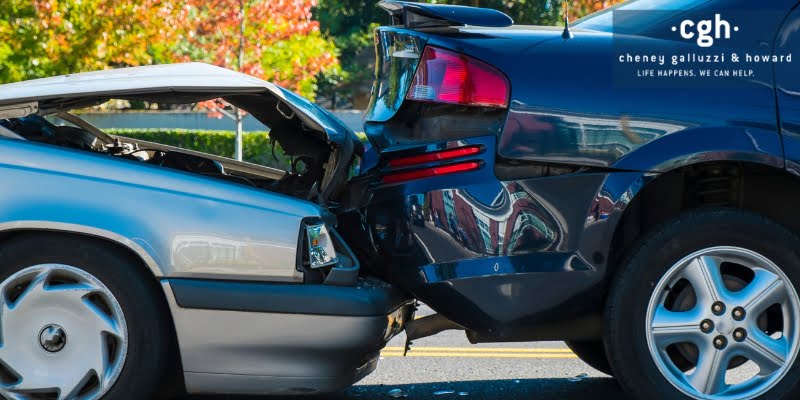 The Most Common Injuries From Auto Accidents
Car accidents are serious and can often result in severe injury for those who are involved. Some of the most common injuries from car accidents that require medical attention include:
Traumatic brain injuries (TBIs) are caused by violent or sudden blows to the head, resulting in long-term issues with the functioning of the brain. Serious car accidents are known to cause traumatic brain issues when the head of the passenger is hit or whipped around quickly. A TBI is nothing to take lightly and can often change the course of your life. If you or someone you know received a TBI from a car accident, you deserve compensation and assistance in healing.
Spinal cord injuries are another dangerous issue that can occur from a severe car crash. A spinal cord injury is defined as any damage that occurs to the spinal cord or the nerves surrounding it. While spinal cord injuries are often treatable, they can sometimes result in long-term bodily function issues or even paralysis. When long-term medical issues result from an accident, they are referred to as catastrophic injuries.
Broken or Fractured Bones
Broken fingers, arms, legs, and more are all common injuries you may see as a result of a car accident. This is because aspects such as the sudden impact and high speed of car crashes can quickly snap, bend, or put too much pressure on a passenger's bones. Broken hips and ribs are also common in more severe crashes, both of which require a long period of healing to recover fully.
Internal bleeding is a serious injury for multiple reasons. One is that you can't always see blatant signs or symptoms of internal bleeding, and you may not even realize it's there. Another issue is that if internal bleeding isn't treated properly and soon after it appears, it can worsen quickly and cause even more damage. Whenever you're involved in a car accident, even if it wasn't extremely serious, getting checked out by a professional can ensure you're healthy and don't have issues such as internal bleeding.
Your head and neck are both fragile pieces of your body that play vital roles in its function. Even a slight twist the wrong way can throw your neck out, so it's no wonder that a car accident can seriously injure your head or neck. Common head and neck injuries from car accidents include whiplash, strained muscles, slipped or herniated discs, pinched nerves, and concussions.
What to Do After a Car Accident in Denver, CO
If you are in the unfortunate situation of being involved in a car accident, there are a few things you should keep in mind to help ensure your legal rights are protected:
Move to safety: The first thing to remember is that one accident can lead to another. If you are able, move to a safe location. This goes for both you and your car. Of course, it's vital to prioritize yourself and your passengers in an accident, and you can always wait for authorities to move your car if needed.
Seek medical attention: This is a critically important step, even if you don't think you have been injured. It is not uncommon for people to miss signs of a serious injury in the aftermath of a crash, due to adrenaline, stress, and a host of other factors. Getting medical attention quickly after the crash can help to identify any injuries that may have occurred, as well as treat them quickly before they worsen. In addition, seeking medical attention immediately after a crash will count towards part of your documentation of the severity of the accident.
Document the accident scene: After getting in an accident, it's crucial to take photos and videos of the accident scene or ask someone else if you are unable. This evidence could be critical when building your legal case. Also, gather the names and contact information of anyone who witnessed the accident.
Talk to a lawyer: Car accidents are never easy and the insurance and legal complexities of the accident will soon become overwhelming without proper assistance. In a vulnerable state, it is imperative to get an experienced legal advocate on your side to help you make wise decisions that could impact your life for years to come.
If you recently suffered injuries in a car accident and believe someone else is to blame, your first steps immediately following the accident are crucial to ensuring your recovery. You should report the accident to the police if no one else has already done so and you can do this without worsening your injuries. If you feel well enough to move around safely after the accident, check your passengers and the other driver for injuries. If you are too hurt to move, wait for paramedics to arrive. Try to take photos of your injuries, the damage to your vehicle, and the surrounding area while you wait for first responders. These photos could be instrumental in your recovery.
Once the police arrive, make sure you do not say anything they may construe as an admission of fault, even if you think you may have contributed to causing the accident in some way. Answer their questions honestly and concisely until they allow you to leave. Once you are free to go, visit a doctor immediately, even if you think you only sustained minor injuries. A speedy medical examination is vital after a car accident and could reveal injuries that have not yet caused noticeable symptoms but may rapidly worsen over time.
After receiving medical care, you should receive a detailed report from your physician that outlines the full scope of your injuries. Once you have this medical report and a copy of the police report from the accident, you are ready to speak with a Denver car accident attorney to determine your best path to recovering compensation for your damages.
Hurt In A Car Accident In Denver, Colorado?
Colorado roads and highways are the site of more than 100,000 car accidents each year, resulting in hundreds of deaths and thousands of serious injuries.
We all understand that driving is inherently dangerous, but many of these accidents are preventable. They can be attributed to driver negligence, distraction and poor choices.
At Cheney Galluzzi & Howard, LLC, we are proud to help accident victims seek the compensation they need to cover their medical bills, lost wages, vehicle damage and other losses. We also work to make the roads safer for everyone by holding bad drivers accountable for the harm they have caused.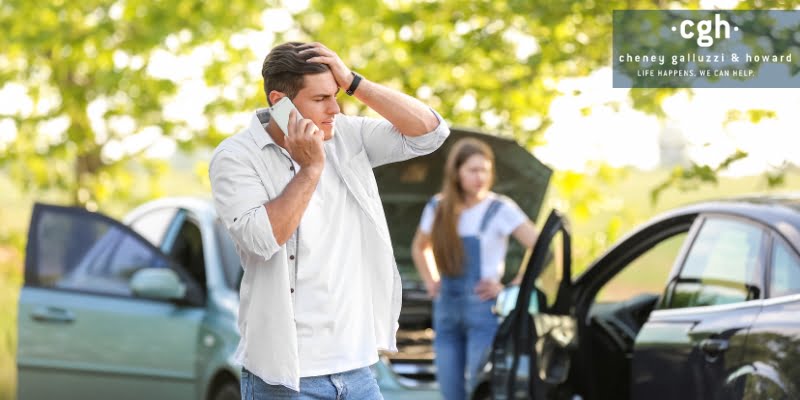 Who Was Responsible For Your Accident?
Our Denver auto accident attorneys have the experience, knowledge and resources to fully investigate your car accident claim, determining the cause and all liable parties. We regularly help clients seek compensation for accidents and injuries related to:
Speeding and aggressive driving
Drunk or drugged driving
Distracted driving (from smart phones and other sources)
Failure to yield to right of way
Failure to adjust to heavy traffic, poor weather or bad road conditions
Illegal turns, unsafe lane changes and other reckless driving maneuvers
Inexperienced and distracted rideshare drivers (Uber and Lyft)
Expenses can add up quickly in the aftermath of a crash, and you'll likely be worried about money as well as your health. But the decisions you make now could greatly limit your options for compensation if you are not careful.
Therefore, before you agree to a settlement or try to negotiate with insurers, give us a call. We'll advocate aggressively on your behalf, leaving you free to focus on your health and your family.
We Know How To Deal With Insurance Companies
You may assume your insurance provider will look out for your best interests when you are hurt in a car crash. But even though you are a policyholder, your insurance company is interested in its own bottom line. The company makes money by denying or limiting your claim.
Many accident victims find themselves fighting with their own insurance company just to get a fair settlement. When you're trying to recover from your injuries, you don't have time or energy to have those fights. Our skilled attorneys know how to negotiate with insurance companies, and we are not afraid to go to court if we believe you are not being offered a fair deal.
Get answers to frequently asked questions about car accidents.
Colorado's Statute Of Limitations
If you have been involved in a car accident in Colorado, remember that you have a limited amount of time in which to file a claim.
Accident victims have three years from the date of the crash to file a lawsuit, seeking damages for injuries, hospital bills, pain and suffering, and other damages.
However, it is advisable to act as soon as possible after an accident. There is no reason to wait. Contact an attorney who can guide you through each step of your personal injury claim.
Should I See A Doctor After A Car Accident?
Colorado Auto Accident FAQs
Q: When should you contact a Colorado car accident lawyer?
A: Car accidents are nothing to take lightly, especially when damage and injury are involved. If you were involved in a car accident that resulted in damage to your car or any injuries to your or your passengers, you should seek assistance from an experienced attorney as you will most likely have a variety of legal proceedings to go through to file your claim.
Q: How long after a Colorado car accident can you sue?
A: According to the statute of limitations Colorado follows for car accidents, you have three years to sue the other driver involved in your accident if you believe it's warranted.
Q: What do I do if I get in a car accident in Colorado?
A: First and foremost, you want to make sure you get yourself into a position where you are safe and can call authorities for help. After the car accident has occurred and been taken care of properly, this is when you can look more into the legality of your car accident case. If you are looking to file a claim or believe you're entitled to compensation, seeking a personal injury attorney will help you with the process.
Q: What should you ask when hiring a car accident lawyer?
A: One of the best questions to ask a potential Denver auto accident attorney is how they plan on representing you and getting you the compensation you deserve. You want to hire an attorney that will fight for maximum compensation and assistance for you.
Q: Is Colorado a no-fault state?
A: Colorado is an at-fault state, meaning that fault has to be proven in a crash in order to continue with legal proceedings and insurance claims. With a fault-based system, drivers involved file their claim for damage through the other driver's (the driver at fault) insurance.
Get a Denver Auto Accident Lawyer Legal Counsel Today
Cheney Galluzzi & Howard can provide the comprehensive legal counsel you need after a car accident caused by a negligent driver. We can carefully review the evidence, help you determine fault for your damages, and thoroughly examine every available channel of compensation that's available in your car accident claim. Contact us today to schedule a consultation with an experienced and compassionate Denver car accident lawyer.