Bicycle Accident Attorney Denver, Colorado
Bicycling is popular throughout Colorado, and many Denver-area residents enjoy riding their bikes for exercise and leisure during pleasant weather. Some people use bicycles as alternative transportation to cut carbon emissions and commuting expenses for work. Whatever your reasons for bicycling may be, it's vital to understand that cycling entails risks andto know your rights if you experience a bicycle accident. A Denver bicycle accident attorney can help you determine your best options for legal recourse after a driver has injured you while riding your bike.
Cheney Galluzzi & Howard have years of experience representing bicycle accident claimants and many other personal injury plaintiffs in a wide range of cases in the Denver, CO area. We understand how difficult it can be to determine liability for some bicycle accidents, and our goal is to help you approach your bicycle accident claim with clarity and understanding. If you or a loved one suffered injuries on a bike due to another party's negligence, we can help you hold them accountable for the resulting damages.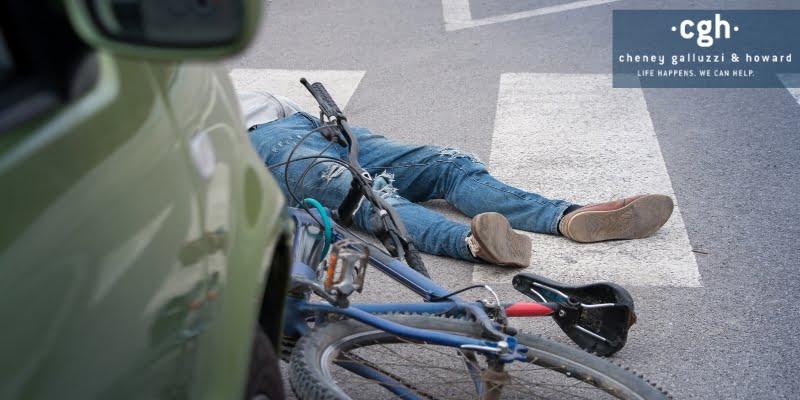 How Do Bicycle Accidents Happen?
Many drivers do not realize that bicyclists have most of the same rights as drivers when traveling on certain roads. While bicyclists should use bike lanes wherever they are available, bicyclists may take a lane on certain roads and, in doing so, have the same rights and responsibilities as motor vehicle drivers. This means motor vehicle drivers must yield the right-of-way to bicyclists where appropriate. Unfortunately, not all drivers acknowledge this responsibility and put bicyclists in danger. Some bicycle accidents also occur due to negligence, which can manifest in several ways:
Distracted driving. When a driver fails to pay attention to their surroundings while operating their vehicle, thiscan prevent them fromnoticing a nearby bicyclist. Using a cell phone while driving, having a conversation with passengers, or eating while driving are just a few potential distractions that can cause bicycle accidents.
Driving under the influence (DUI) of drugs or alcohol. Not only is this practice extremely dangerous, but it is also illegal. An intoxicated driver has a slowerreaction time to changing traffic patterns and experiences diminished spatial awareness. When DUI causes a bicycle accident, the at-fault driver will face criminal charges in addition to civil liability for the victim's damages.
Speeding. Drivers must abide by posted speed limits at all times. Exceeding the speed limit can easily lead to a situation where a driver is unable to slow down or stop in time to avoid hitting a bicyclist.
Moving violations. When drivers fail to stop at stop signs or red lights, make illegal turns and U-turns, or fail to engage their turning signals where appropriate, they put other drivers and nearby bicyclists at risk.
Poor visibility. Bicyclists should do their best to make themselves visible to nearby drivers, but all motor vehicle drivers have a duty of care to use extra caution when driving in periods of low or poor visibility.
Ultimately, bicycle accidents happen for many different reasons. Bicyclists should know what to do after experiencing a bicycle accident, including seeking prompt medical treatment, reporting the accident to the authorities, and consulting a Denver bicycle accident attorney.
How Can a Denver Bicycle Accident Lawyer Help Me?
If you have sustained severe injuries in a bicycle accident, it's unrealistic to attempt to handle a civil claim against the at-fault driver on your own. Any personal injury claim requires meeting strict court filing deadlines and other procedural requirements, and even slight errors in these initial steps can jeopardize a claim. Working with an experienced Denver bicycle accident attorney will allow you to focus on recovery with peace of mind while your legal team manages your case on your behalf.
Your Denver bicycle accident lawyer will help you establish liability for your damages. To succeed with your personal injury claim, you must identify the party responsible for your bicycle accident and prove that your damages would not have occurred but for their negligence. Additionally, you must provide a complete and accurate list of all the damages resulting from the bicycle accident. Your attorney will be crucial in assisting with these steps by helping you gather the evidence you need to establish liability for your damages and prove the full scope of your claimable damages.
Compensation for Bicycle Accident Damages in Colorado
Your claim could be worth more than you initially anticipated when you choose an experienced Denver bicycle accident lawyer to handle your case. The average person with no legal experience may be able to identify immediate damages like hospital bills and the cost of repairing a damaged bicycle, but they may overlook other available channels of compensation. An attorney who specializes in bicycle accident cases can help you secure compensation for all your medical expenses, including those you anticipate incurring in the future due to the long-term treatment needs of your injuries. When it comes to lost income, your attorney can not only help you obtain compensation for wages lost immediately after your accident, but also your lost earning potential if your accident has left you unable to return to work in the future.
Colorado state law allows personal injury plaintiffs to recover compensation for noneconomic damages as well, namely pain and suffering. Bicycle accidents are traumatic experiences that usually cause painful injuries, and recovery from these injuries can be incredibly difficult for the victim. Your Denver bicycle accident lawyer will help you determine a reasonable amount of pain and suffering compensation that falls within the limits upheld by Colorado state law based on the severity of your injuries and the amount of your claimed economic damages.
Help For Those Injured In Bicycle Accidents
Here in Colorado, we love bikes. We ride them for pleasure. We ride them for the daily commute. We ride them for exercise. If you live anywhere in the Denver Metro or Boulder areas, you likely see a bike almost every day. Despite the abundance of bikes on the road, some drivers struggle when they come into contact with bikes.
When these drivers cause accidents, the results can be deadly. In those cases, a bicycle accident attorney can make a huge difference.
Holding Negligent Parties Accountable
Bicyclists enjoy the same rights to the road as motorized vehicles. When other drivers fail their legal duty to use caution, our lawyers are here to help hold them accountable. We will pursue compensation for present and future medical expenses, pain and suffering, and other damages. Together, we can help send a message that reckless and dangerous acts on the roadway will not be tolerated.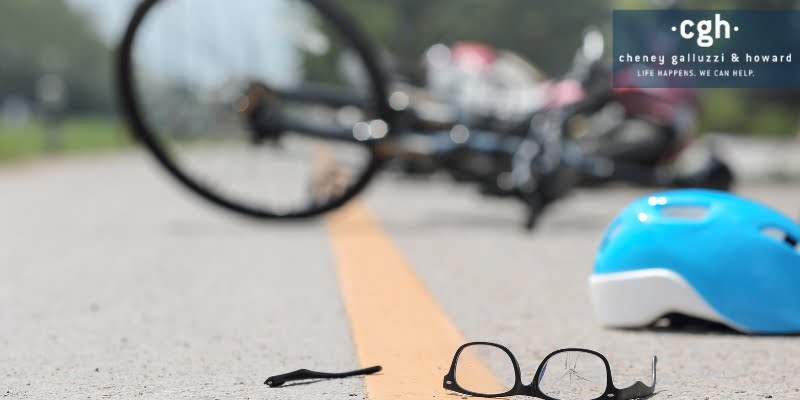 Secure the Legal Counsel You Need Today
The sooner you begin working on your personal injury claim, the better your chances of fully maximizing your recovery under Colorado law. The attorneys at Cheney Galluzzi & Howard have years of experience handling complex personal injury claims on behalf of our clients in the Denver, CO area, and we can apply this experience and our professional resources to manageyour bicycle accident claim. If you are ready to take legal action against the negligent party responsible for causing your recent bicycle accident, contact Cheney Galluzzi & Howard today to schedule your consultation with an experienced Denver bicycle accident attorney.
Contact Us Today For A Free Consultation
If you or a loved one has bee seriously hurt in a bike accident, you may be entitled to financial compensation. To schedule a free initial consultation, call our law office in Denver at 303-209-9395. You may also contact us online and we will respond to your message promptly.