Aurora Bicycle Accident Attorney
Bicyclists can suffer life-changing injuries if they are struck by motor vehicles, and it is vital for every bicyclist in Colorado to understand the risks they face on the road. They must also know what to do when another driver has caused a bicycle accident with them. An experienced Aurora bicycle accident lawyer is the ideal resource for you to consult if you are struggling with damages from a recent bicycle accident.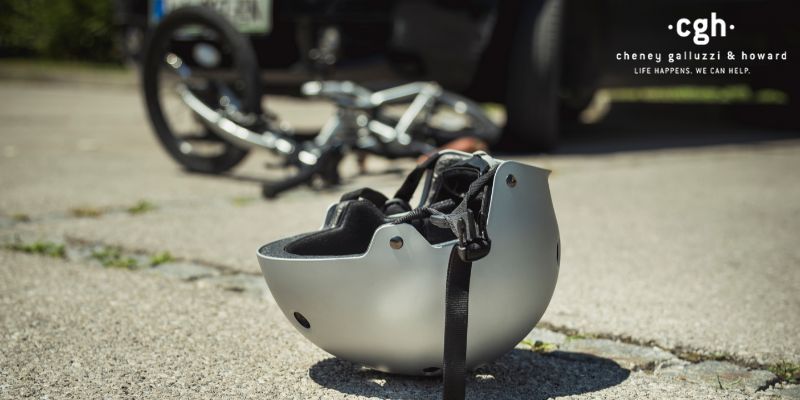 Helping Bicycle Accident Victims Recover in Aurora, CO
The attorneys at Cheney Galluzzi & Howard have helped many clients in Aurora and surrounding communities through all types of personal injury cases, including bicycle accident claims. We know how damaging any bicycle accident can be and that you likely have many pressing legal questions regarding your recovery options. If another party is responsible for your accident, we can help hold them accountable.
While hiring an attorney for a bicycle accident claim is not strictly required, legal counsel you can trust will be an invaluable asset for not only navigating your case successfully but also maximizing your total recovery. The right attorney can help you meet all the procedural requirements of your case and potentially uncover compensation that you did not know you could claim.
When you choose Cheney Galluzzi & Howard to represent you in a bicycle accident case, you can expect personalized and responsive attention from a dedicated legal advocate. We can help determine your most viable options for recovering your damages, help you through the insurance claim filing process, and build a comprehensive personal injury suit for you if necessary to ensure the fullest recovery possible under Colorado law.
You have a limited time in which to pursue your recovery from your recent bicycle accident, and the sooner you contact an attorney, the more time they have to work on your case. Our firm is ready to help develop a sound legal strategy for maximizing your recovery in the shortest possible timeframe.
How to Prove Fault for a Bicycle Accident in Aurora
The first step in recovering from any vehicle accident is proving fault for the accident. You must identify the driver who caused the bicycle accident and gather evidence showing exactly how they caused it. Next, you will need to prove the full extent of the damages you suffered from their actions and prove that those damages did not result from any other cause.
Evidence you may need to prove fault for your bicycle accident could include traffic camera recordings, vehicle computer data, eyewitness statements from people who saw the accident happen, driver cell phone records, and even testimony from expert witnesses. An experienced Aurora bicycle accident attorney can help gather this evidence and prepare the foundation of your case.
Most bicycle accidents reported in the Aurora area happen because of negligence, or failure to exercise reasonable care behind the wheel. Drivers may cause bicycle accidents if they become distracted, if they speed, or when they commit moving violations such as running red lights or failing to yield the right-of-way. It is also possible for illegal acts such as driving under the influence (DUI) of drugs or alcohol to result in a bicycle accident.
Your Aurora bicycle accident attorney can help gather the evidence needed to prove negligence in your case. Alternatively, if the defendant broke a Colorado law in causing your accident, such as committing a DUI, your attorney can explain how the criminal proceedings filed by the state could impact your recovery. Once fault has been established, you can proceed with filing an auto insurance claim against the at-fault driver.
Recovering With Auto Insurance
State law requires every driver to have auto insurance that includes basic coverage for bodily injury liability and property damage liability. When a driver causes an accident, the victim can file a claim against the at-fault driver's insurance to recover their damages. However, their insurance may not include enough coverage to fully compensate you for your damages, and there is always a chance of encountering problems with an insurance carrier.
Once an insurance company representative notices that a claimant has legal counsel, they will be more inclined to process the claim efficiently and in good faith. If an insurance carrier does raise any concerns with your claim, your Aurora bicycle accident lawyer can address and resolve these issues for you. The insurance company will deliver its settlement offer once it finishes its investigation of your claim.
Building Your Personal Injury Claim in Aurora
If insurance alone cannot fully repay the damages you suffered in your recent bicycle accident, or if the at-fault party does not have applicable insurance, you will need to file a personal injury claim against them to recover your outstanding damages. The main objective of any personal injury claim is for the plaintiff to secure compensation for the full extent of damages the defendant caused.
Colorado's personal injury laws allow a plaintiff to claim full repayment of all economic damages suffered in an accident, such as:
Property losses, including the cost of repairing or replacing a bicycle and other personal property lost in the accident.
Medical expenses. Bicycle accidents often cause serious injuries, many of which require extensive ongoing medical treatment. The defendant who injured the plaintiff is liable for all medical expenses the plaintiff incurs because of the defendant's actions.
Lost income. If a plaintiff cannot work after a bicycle accident, the at-fault driver is liable for the income the plaintiff is unable to earn during their recovery period. This applies to lost future earning capacity as well if the defendant caused catastrophic injuries that will prevent the plaintiff from returning to work in the future.
Aside from the direct financial losses you suffered from the accident, you may also claim compensation for your pain and suffering. State law, unfortunately, limits how much a plaintiff can claim, even if they suffered life-changing injuries. An experienced Aurora bicycle accident attorney can help maximize this aspect of your case award.
Cheney Galluzzi & Howard can work closely with you to help maximize your recovery from a recent bicycle accident. We know how difficult it can be to face medical recovery as well as the complex legal issues your case is likely to entail, and the sooner you reach out to our team, the sooner we can start building a cohesive personal injury claim for you.
FAQs for Bicycle Accident Attorneys
Q: Is Colorado a Fault State for Vehicle Accidents?
A: Yes, the state enforces the fault rule for resolving all vehicle accidents. This means that whoever caused your recent accident is liable for all resulting damages and that all drivers must have auto insurance that includes liability coverage. Once you prove the exact cause of your bicycle accident and show how they caused the accident, you can claim compensation for all the damage they inflicted.
Q: Can I File an Auto Insurance Claim After a Bicycle Accident?
A: Yes, state law considers bicycle accidents as subject to the same legal rules as motor vehicle accidents. Once you prove fault for your bicycle accident, you can file a claim against the at-fault driver's auto insurance policy. Your attorney can help you submit your claim, resolve any problems you encounter with the insurance carrier, and ensure that you receive a suitable settlement offer.
Q: What Happens if Multiple Parties Share Fault for a Bicycle Accident in Aurora?
A: The state follows a modified comparative negligence statute that applies to any civil claim for damages in which multiple parties share liability for the accident. Each party will have a fault percentage assigned, indicating how much of the total damages they are responsible for repaying. If a plaintiff is found partially at fault, they can still claim compensation from the defendant, but they will lose a percentage of their case award to reflect their shared liability.
Q: How Much Is My Bicycle Accident Claim Worth?
A: The total potential value of any personal injury suit depends on the severity of the plaintiff's losses. Colorado's personal injury statutes enable a plaintiff to seek full repayment of any direct financial losses the defendant caused, but they are limited in terms of their pain and suffering compensation. Working with an experienced Aurora bicycle accident lawyer will be your most viable option for enhancing your case award as much as state law allows.
Q: How Much Does an Aurora Bicycle Accident Lawyer Charge?
A: The attorneys at Cheney Galluzzi & Howard accept all clients in injury claims on a contingency fee basis. When you have a contingency agreement with your attorney, their fee is contingent upon their ability to secure compensation for you. If they cannot obtain a case award, you pay nothing, but if they do win your case, you will only part with a percentage of the total case award as their fee.
The team at Cheney Galluzzi & Howard has successfully resolved many bicycle accident claims for our clients in the Aurora area, and we know how difficult it can be to navigate the aftermath of this damaging type of event. If you are ready to learn how our firm can empower your recovery efforts, contact us today and schedule your free consultation with an Aurora bicycle accident attorney you can trust with your claim.