Colorado Springs Bicycle Accident Attorney
Thousands of vehicle accidents happen throughout the state each year for various reasons. Bicycle accidents happen for many of the same reasons that all other vehicle accidents occur, but bicyclists tend to suffer far worse injuries when they have been struck by motor vehicle drivers. If you or a loved one is recovering from a recent bicycle accident that someone else caused, a Colorado Springs bicycle accident lawyer can help hold them accountable.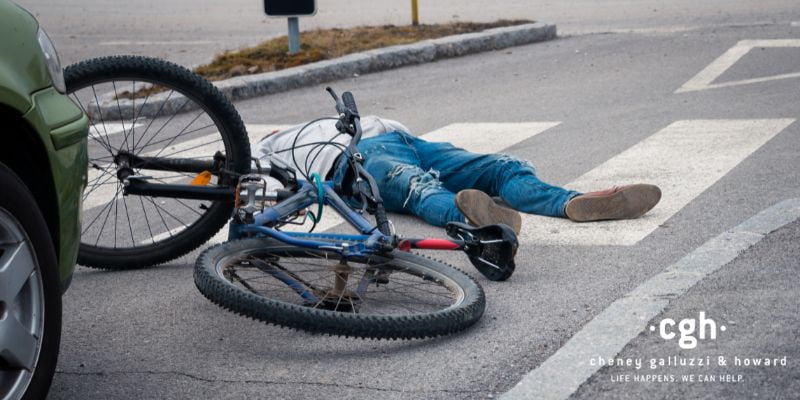 Representing Bicycle Accident Claims in Colorado Springs, CO
Cheney Galluzzi & Howard has successfully represented a wide range of personal injury claims in Colorado Springs, including those pertaining to bicycle accidents. We know how damaging these incidents can be and that the average person is likely to feel lost and overwhelmed when it comes to confronting the difficult legal issues their recovery may entail.
Hiring an experienced Colorado Springs bicycle accident attorney is the optimal way to approach your recovery with confidence and peace of mind. You are not only more likely to succeed in holding the at-fault driver accountable for your losses but also more likely to maximize your final recovery at the conclusion of the recovery efforts you pursue.
When you choose our firm to represent your bicycle accident claim in Colorado Springs, we can immediately set to work gathering the evidence necessary for proving fault. Once we have identified the party or parties responsible for causing your bicycle accident, we can help prove liability for the damages you suffered. Your recovery may require an insurance claim and a personal injury claim, and the sooner you contact us, the sooner we can get started on your case.
How to Prove Fault for a Bicycle Accident
Before you can recover any compensation for the damages you suffered in your recent bicycle accident, you must be prepared to prove the exact cause of the accident and identify the party responsible. Most bicycle accidents in the Colorado Springs area happen because of negligence, or failure to exercise reasonable care behind the wheel. However, many bicycle accidents happen because of illegal misconduct, like driving under the influence (DUI).
Your Colorado Springs bicycle accident attorney will know what evidence you need to prove fault for your accident. This evidence may include physical evidence from the scene of the accident, testimony from witnesses who saw your accident happen, digital records such as vehicle computer data, cell phone records, and traffic camera recordings. In complex cases, attorneys may consult various expert witnesses for their professional insights.
Recovering With Auto Insurance in Colorado Springs
State law requires all drivers to have auto insurance, and this insurance is the first option you will have for recovering your damages after any vehicle accident, including a bicycle accident. Once you have proven fault, your Colorado Springs bicycle accident attorney can help file a claim against the at-fault driver's insurance policy.
While most insurance companies process claims in good faith, some will look for all reasons they can find to reduce a settlement offer as much as possible or deny a claim outright. Your Colorado Springs bicycle accident attorney can assist you in completing all necessary claim forms, submitting your claim to the insurance carrier, resolving any disputes it raises, and ensuring you receive a fair settlement offer.
Building Your Personal Injury Claim in Colorado Springs
If you cannot fully recover your damages from a bicycle accident with an insurance claim, or if the at-fault driver does not have auto insurance, you will need to file a personal injury suit against them to recover your remaining damages. Your attorney can be invaluable for this in several ways. They can handle all your procedural obligations so you can focus on your recovery, and they may also uncover avenues of compensation you didn't realize you could claim.
Under the state's personal injury laws, you have the right to seek full repayment of all financial losses you suffered because of the accident. Your claimable economic damages are likely to include:
Property damage, such as the cost of repairing or replacing your bicycle, as well as any other personal property lost in the accident.
Medical treatment costs. Many bicycle accident victims suffer multiple serious injuries that require extensive medical treatment. The defendant is responsible for both immediate and future medical expenses arising from the accident. Their bodily injury liability coverage in their auto insurance policy may cover some of these expenses, but any remainder may be added to your personal injury suit as economic damages.
Lost wages. When you cannot work during your recovery from your bicycle accident, the defendant will be liable for the income you should have been able to earn during this time.
Lost earning capacity. Unfortunately, some bicycle accident victims are left entirely unable to work in the future. If this applies to your situation and you have suffered catastrophic injuries, your Colorado Springs bicycle accident attorney can help accurately calculate the full extent of future income you are no longer able to earn and add these projected future losses to your personal injury claim.
Beyond these economic damages, you can also claim compensation for your pain and suffering. Unfortunately, state law limits pain and suffering compensation to $500,000 for most personal injury plaintiffs, even if they have suffered extreme injuries. Your Colorado Springs bicycle accident attorney can help maximize this aspect of your recovery.
Cheney Galluzzi & Howard approach every personal injury claim we accept with the goal of helping our client recover as fully as possible and as quickly as possible. If we cannot fully recover your damages through an insurance claim, we can construct a robust personal injury suit that seeks maximum compensation for your damages. We will aim to settle this suit outside of court to minimize the time it takes for you to recover.
Most personal injury claims filed each year end outside of court, but there is always a chance for litigation to be necessary. If we must take your personal injury claim to court, you can rely on our firm to provide ongoing support through every stage of your proceedings. Ultimately, every case is unique, and every plaintiff will face different challenges as they seek compensation for their damages. We can also provide individualized counsel for your case.
You have a limited time in which to file a personal injury suit after an accident in the state, and you face an even shorter time limit in which you can file an insurance claim. Seeking legal counsel that you can trust as soon as possible will significantly increase your chances of maximizing your recovery as much as state law allows.
FAQs About Bicycle Accidents
Q: Can a Bicyclist Be at Fault for an Accident?
A: Yes, it is possible for a bicyclist to bear liability for their accident. Colorado enforces the fault rule for all vehicle accidents, including bicycle accidents. This means whoever is responsible for causing the accident is liable for all resulting damages. When multiple parties share fault, each party will have a fault percentage assigned according to the state's modified comparative fault statute.
Q: What Are the Most Common Injuries From Bicycle Accidents?
A: It is possible for any bicycle accident to result in severe injuries, such as broken bones, traumatic brain injuries, spinal cord injuries, and damage to the internal organs. Facial and dental injuries are also possible, and many bicycle accident victims will sustain multiple injuries that require extensive recovery time.
Q: How Much Compensation Can I Claim for a Bicycle Accident?
A: If you can prove another party is directly responsible for causing your recent bicycle accident in Colorado Springs, you have the right to seek compensation for all damages they caused in the accident. Your Colorado Springs bicycle accident attorney can help accurately calculate property damage, medical expenses, and lost income you can claim, and they can also help maximize your pain and suffering compensation.
Q: Will the At-Fault Driver Go to Jail for Causing a Bicycle Accident?
A: An at-fault driver only faces criminal prosecution for causing an accident if they did so through some illegal misconduct. For example, if the defendant in your case caused your accident because of intoxicated driving, they face criminal prosecution for DUI. Not only will they face harsher penalties in sentencing due to causing your injuries, but they will also be liable for all the damages they inflicted in the accident.
Q: What Does It Cost to Hire a Colorado Springs Bicycle Accident Attorney?
A: Cheney Galluzzi & Howard can provide the legal representation you will need for your impending case under a contingency fee agreement. This means you will not pay a fee unless and until we win compensation for your damages, in which case you would part with a percentage of your final case award as our fee. If we are unable to secure compensation for your damages, there is no fee at all.
Our team has years of experience helping injured bicyclists and other victims of various types of personal injuries with their claims. We know that you are likely to have many pressing legal questions in the aftermath of your accident. If you are ready to learn what our team can do for you, contact Cheney Galluzzi & Howard today to schedule a free consultation with a Colorado Springs bicycle accident attorney.