Golden Car Accident Attorney
Car accidents are one of the most commonly cited causes of injuries and deaths throughout the country each year, and each state has unique laws for resolving these incidents. In Colorado, every driver is required to carry liability insurance coverage that comes into play when they cause an accident with another driver. If you or a family member recently experienced a car accident because of another driver's negligence or misconduct, their insurance is likely to be your first step toward recovery. However, you could have grounds for further legal recourse.
Trustworthy Car Accident Representation in Golden
Recovering as fully as the law allows from your recent accident is likely to require the attention of an experienced Golden car accident attorney. Hiring trusted legal counsel could significantly improve your experience with your recovery efforts, from helping you streamline the insurance claim settlement process to pursuing a personal injury claim against the responsible driver. Ultimately, every car accident victim will face unique challenges as they seek compensation for their damages, and an experienced attorney is a great asset for any car accident victim to have on their side.
The attorneys at Cheney Galluzzi & Howard have years of professional experience helping clients secure compensation for their losses. A car accident can happen unexpectedly in various ways, and liability for these incidents is not always immediately apparent. Whatever your case entails, you can expect personalized legal counsel through all stages of your recovery efforts When you hire our firm to represent you. We know that each client has unique needs and concerns when it comes to recovering their losses, and we provide compassionate and responsive legal representation in every case we accept.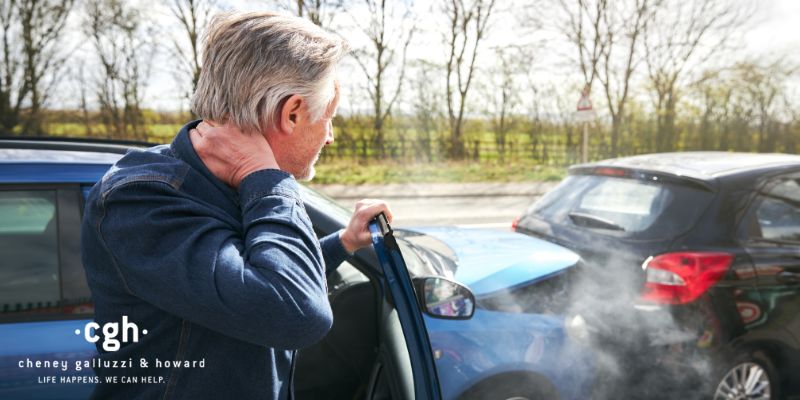 Proving Fault for a Car Accident
It follows the fault rule for car accidents, meaning that whoever causes an accident is responsible for the resulting damages. If you want to maximize your compensation for your recent accident in the Golden area, you must be prepared to provide evidence showing that another driver's negligence or misconduct behind the wheel directly resulted in your claimed losses. A few examples of the most commonly reported causes of motor vehicle crashes in the Golden area include:
Distracted driving, which is the leading cause of all motor vehicle accidents throughout the country each year. Even momentary inattention can potentially result in a serious collision, and the injured driver is likely to wonder how they can prove fault for this type of accident. Cheney Galluzzi & Howard will help you gather any evidence you need to firmly establish fault for your accident.
Driving under the influence (DUI). This is illegal in every state, and the penalties for a DUI conviction can include fines, driver's license suspension, jail time, and more. These penalties increase automatically if the driver injures or kills someone due to their inebriation behind the wheel. They will also be responsible for the damages they cause with their actions.
Reckless driving. Any intentional misconduct behind the wheel, such as willful moving violations and aggressive driving, can easily result in devastating losses. Similar to DUI, a reckless driver is likely to face criminal charges along with civil liability for the damages they inflict on others.
Speeding. Posted speed limits are not suggestions, despite the fact that it is relatively common for drivers to slightly exceed the speed limit to maintain the flow of traffic. However, speeding is inherently dangerous for any driver because it reduces the time they have to slow down or stop in time to prevent a collision. Accidents that happen at high speeds also have a greater chance of causing catastrophic or fatal injuries.
Moving violations, such as running red lights, performing illegal turns, or failing to navigate an intersection correctly. When drivers make these mistakes unintentionally, they may not face prosecution, but they are still responsible for the harm they cause to others.
These are only a few ways that car accidents happen throughout the Golden, CO, area. If you were severely injured and did not remember the exact cause of your accident, it is crucial to speak with an experienced Golden car accident attorney as soon as possible to have the best chance of maximizing your recovery. Regardless of what your car accident claim entails, you can rely on Cheney Galluzzi & Howard to guide you through all of the recovery efforts you must attempt after the incident.
Filing Your Auto Insurance Claim
Every driver must have auto insurance that meets the state's minimum coverage requirements, including property damage liability coverage and bodily injury liability coverage. When another driver has caused an accident and injured you, you have the right to file a claim against their insurance policy, and you have a limited time in which to do so. Medical care should be your first priority, and after receiving any emergency treatment, you should consult an attorney before discussing a claim with the driver at fault's insurance company. If you only have a few days to file your claim, you should notify the insurance company of the accident and your intent to file a claim, but inform them that you must consult with legal counsel before discussing any details.
Your Golden car accident attorney can review the responsible driver's policy and assist you in drafting your demand letter for compensation. Their guidance will be invaluable for maximizing the compensation you receive for the insurance claim, and they can resolve any disputes that arise between you and the insurance company. After receiving your settlement, you may have outstanding losses that insurance can't cover, and Cheney Galluzzi & Howard will help you file a compelling personal injury suit in this situation.
Claimable Damages in a Car Accident Case
Once you have obtained as much compensation as possible through your insurance claim, the next step in your recovery efforts is likely to be a personal injury suit against the driver at fault. Your Golden car accident attorney will assist you in filing your complaint with the court, which must include identification of the driver who hit you, a complete explanation of the damage they caused, and your expectations in terms of recovery.
If the defendant accepts responsibility for their behavior, your case will likely proceed to the settlement negotiation process. Settlement allows both you and the defendant to reach a mutually agreeable resolution to the claim in a relatively short time, saving both parties time and money they would otherwise spend on legal fees. However, if settlement does not prove fruitful for any reason, the case must be resolved through litigation.
Colorado law allows the victim of any personal injury, including a car accident, to seek full repayment of all their economic damages. While you may secure some immediate compensation through your insurance claim against the responsible driver, a personal injury claim can enable you to recover any damages that the defendant's insurance won't cover. Under the law, the plaintiff in a personal injury claim can seek compensation for:
Property damage not covered by the defendant's insurance. For example, if your car was damaged beyond repair and its value exceeds the property damage liability coverage in the defendant's insurance policy, you can include the remainder as economic losses in your personal injury claim.
Medical expenses, both immediate and future. You have the right to hold the defendant accountable for any and all medical expenses you face to fully recover from your damages. This would include long-term treatment costs if you suffered a serious injury that demands long-term treatment.
Lost income. Your car accident may have left you unable to handle your work duties while you recover. The defendant is liable for the income you lose during this time, and they are also liable for the income you are no longer able to earn if they caused any permanent disability.
Pain and suffering. Colorado law limits compensation for pain and suffering in most personal injury claims, but your Golden car accident attorney can assist you in maximizing this aspect of your recovery by proving the scope and severity of the harm you experienced from your accident.
When the attorneys at Cheney Galluzzi & Howard represent your car accident claim, we work to secure as much financial compensation as possible. However, you should understand the state's modified comparative negligence law if you have any reason to worry that you are partially liable for your accident. Under this legal statute, the plaintiff loses their right to recover compensation for their damages if they are 50% or more at fault for causing those damages. However, if their fault is less than 50%, they still recover compensation, but their fault percentage is subtracted from their case award; 20% fault would mean losing 20% of their case award.
Ultimately, every car accident victim in the Golden area will have an entirely unique experience with their recovery efforts after an accident. If you believe that another driver is liable for the injuries and economic losses you experienced in an accident they caused, Cheney Galluzzi & Howard will help you hold them accountable.
Auto Accident Personal Injury FAQs
Q: What Does It Cost to Hire a Golden Car Accident Attorney?
A: Cheney Galluzzi & Howard believes in making sure that our legal representation is accessible to those who need it most, regardless of their ability to pay. We offer contingency fee billing to our car accident clients, meaning that if you choose our firm to represent you, you will only be responsible for paying a legal fee if we win your case. Additionally, this fee is a percentage of your total recovery, and you pay nothing if we are unable to secure compensation on your behalf.
Q: How Much Is My Car Accident Claim Worth in Golden?
A: You have the right to hold the driver who caused your accident accountable for the full scope of economic losses they caused as well as your pain and suffering. Every car accident case is unique, so it is difficult to predict how much your case is worth until you consult an experienced Golden car accident attorney. On average, plaintiffs in car accident cases are able to secure roughly 1.5 times their total economic losses in their civil suits.
Q: How Much Can I Claim in Pain and Suffering Compensation for a Car Accident?
A: State law limits compensation for pain and suffering for most personal injury claims. However, a good attorney can still help you maximize this aspect of your recovery. If you are expected to fully recover within a relatively short time, they may seek per diem compensation for pain and suffering for each day until you reach maximum medical improvement from your injuries. If you suffered any permanent harm, they would likely seek a multiple of your total economic losses up to the maximum allowed under state law.
Q: How Long Will It Take to Receive an Auto Insurance Settlement?
A: Most car accident claimants are able to secure auto insurance settlements within a few weeks of filing. If the defendant's liability for your accident is clear and you have reliable legal representation assisting you, it should not take very long for you to obtain your settlement check. However, if you experience any bad faith handling of your claim, this will extend the time it will take you to receive your settlement check. A Golden car accident attorney can prevent any unethical treatment from the other driver's insurance carrier.
Q: Is It Worth Hiring a Golden Car Accident Attorney?
A: Do not assume that the cost of pursuing legal recourse against the driver who hit you would overshadow the compensation you could secure. With the help of a Golden car accident attorney, you could potentially obtain far more compensation than you initially expected. When you hire Cheney Galluzzi & Howard to represent you, we work to streamline your recovery and maximize the compensation you receive from the defendant in the most efficient manner possible.
The attorneys at Cheney Galluzzi & Howard have a great deal of experience representing clients in their car accident claims. Whether you expect to secure appropriate compensation through an auto insurance claim or anticipate a broader personal injury claim in response to your recent accident, we can help. Our team has assisted many Golden area clients in their car accident cases and can put this experience to work for you. Contact us today to schedule your consultation with a Golden car accident attorney.