Aurora Medical Malpractice Attorney
Every day, thousands of people in Colorado trust all types of medical professionals to provide them with safe, effective treatment of illnesses and injuries. While most medical professionals, including doctors, nurses, surgeons, and specialists, do their utmost for their patients, some cause tremendous harm through professional negligence. Medical malpractice happens when a medical professional's negligence harms a patient.
Experienced Legal Counsel for Medical Malpractice Claims in Aurora, CO
If you are struggling with an injury you suffered due to the negligence of any medical professional in Aurora, a medical malpractice attorney is the ideal resource to consult. You may be able to take legal action in response to your experience, and your attorney can be invaluable for helping you navigate the case ahead of you. At Cheney, Galluzzi & Howard, our team regularly assists Aurora-area clients with all types of personal injury cases, and we know the complex issues you are likely to encounter in a medical malpractice suit.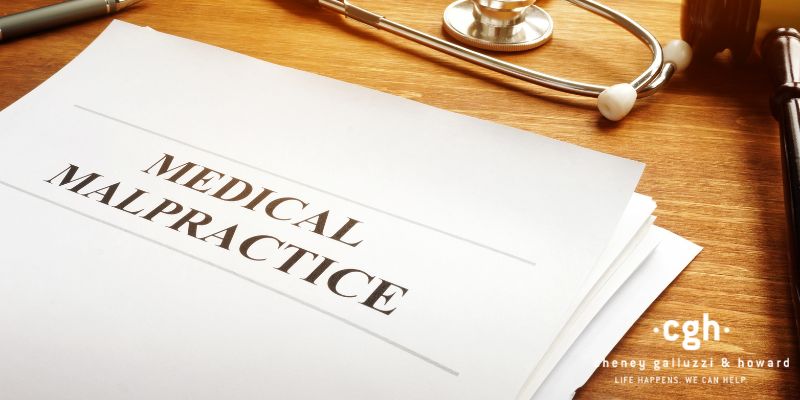 Special Rules Apply in Medical Malpractice Cases
Medical malpractice may fall within the purview of personal injury law, but there are special rules that apply to medical malpractice cases that you must understand if you want to succeed with your case. Our team can provide the ongoing support you will need to navigate a complex medical malpractice suit with confidence and reach the results you hope to see. The sooner you connect with our firm, the more time we will have to devote to your case.
The Basics of a Medical Malpractice Case in Aurora
Although medical malpractice is technically a form of personal injury, there are specific rules that apply to medical malpractice that you must understand if you hope to succeed with your case. Almost every medical malpractice claim revolves around the standard of care, a term used to define the minimum level of accepted medical care that a patient should receive for their condition. The medical community develops standards of care for all known ailments, and medical professionals are expected to adhere to these standards for every patient.
To succeed with a medical malpractice suit, the plaintiff needs to prove that the defendant in their case failed to meet the standard of care that applied to their diagnosis. This could occur through intentional misconduct or professional negligence of some kind. One of the most important parts of any medical malpractice case is the certificate of review that the plaintiff must obtain and submit to the defendant no later than 60 days following the filing of their medical malpractice claim.
A certificate of review is a legal document signed by a medical professional who holds similar or greater medical board certifications and professional experience to that of the defendant. This certificate must state that the plaintiff's claim is justified and provide a clear description of the way the defendant did not meet the standard of care for the situation. For example, if you are suing an orthopedic surgeon, you must obtain a certificate of review from another orthopedic surgeon with similar experience to the defendant, and they must clearly explain how the defendant failed to meet the standard of care required for the situation.
Most Common Types of Medical Malpractice
Medicine is an uncertain field in many respects, and there is an accepted margin of error for the treatment of any known medical condition. It is possible for a patient to suffer harm that technically qualifies as malpractice without them realizing it, and it is also possible for a doctor to harm a patient due to an honest mistake or some unpredictable variable, and the situation will not qualify as medical malpractice. A few of the most commonly cited forms of medical malpractice are:
Diagnostic errors. Any doctor responsible for diagnosing a patient's condition must do so using an appropriate differential diagnosis procedure. This entails a process of elimination by which the doctor accurately determines the patient's condition so they can apply the appropriate standard of care. Misdiagnosis, delayed diagnosis, or failure to diagnose could all lead to medical malpractice claims.
Medication errors. Many patients are prescribed various forms of medication. Doctors must ensure they prescribe the correct medications in the correct dosages, and pharmacists must ensure they fill all patient prescriptions accurately. A medical malpractice suit could target a doctor or a pharmacist who negligently filled a patient's prescription.
Surgical errors. Any surgical procedure can be risky, but there is a difference between a patient injury from unexpected and/or unavoidable variables and a surgical injury from negligence. The surgeon responsible for this type of malpractice could face economic responsibility for the cost of any corrective procedures the victim requires to recover as fully as possible.
Emergency room errors. An emergency room can be the most chaotic area of any hospital, and the doctors and nurses assigned to emergency room duty face extraordinary challenges every day. However, negligence can occur in many ways in the emergency room, sometimes resulting in tremendous patient harm. Your Aurora medical malpractice attorney can help you determine whether a recent injury in an emergency room constitutes grounds for a medical malpractice case.
Birth injuries. Any injury during a childbirth procedure can be traumatic for the family. It's possible for the mother and/or her child to suffer extreme harm during childbirth, sometimes resulting in long-term or permanent medical complications.
These are a few ways medical malpractice could happen. Ultimately, whatever your experience entails, it is vital to consult an Aurora medical malpractice attorney as soon as possible to start building your case. They can assist you in gathering any evidence you will need to prove the defendant failed to meet the standard of care you required for your situation and guide you through the process of filing your claim.
Recovering Compensation for Medical Malpractice in Aurora
The purpose of any personal injury claim filed is for the plaintiff to hold a defendant accountable for the harm they have done through negligence or intentional misconduct and to secure compensation for any sustained losses. However, Colorado law places limits on how much a plaintiff can recover, especially in medical malpractice cases.
Your Aurora medical malpractice attorney can help you identify all the various types of compensation you can include in your claim. You can hold the defendant accountable for additional medical expenses you incur for the treatment of the injuries or illnesses they caused. You also have the right to seek compensation for lost income if the defendant's actions kept you from any employment. Your attorney can be invaluable in helping you secure as much compensation for your economic damages as possible.
When it comes to pain and suffering, the most you can claim in the state is $300,000 in a medical malpractice suit, regardless of the severity of your experience. You also face a total compensation cap under state law, and if you want to maximize your recovery, you will need legal counsel you can trust to assist you with your case.
Resolving Your Medical Malpractice Claim in Aurora
The majority of the medical malpractice claims filed each year are not resolved in court. Most cases end in private settlement negotiations. The private settlement process allows the parties involved in a case to reach mutually agreeable terms for resolving the case while avoiding the time commitment and expense required of litigation. Additionally, whenever a civil case is litigated, the judge overseeing the case has the final say regarding liability and the plaintiff's compensation. Settlement offers both parties the chance to exercise more influence over the final outcome of the case.
When you hire Cheney, Galluzzi & Howard to represent your medical malpractice claim in Aurora, our goal will be to settle your case for as much compensation as possible. We can help you build the most compelling suit possible and secure as much supporting evidence as necessary to compel the defendant toward settlement. However, should settlement fail for any reason, or if the defendant refuses to settle the case privately, we are fully prepared to represent you in court.
Our team takes time to provide client-focused and individualized legal counsel to every client we represent. We know that no two medical malpractice claims are exactly alike, and no two clients will have the same experience in their recovery efforts. Time is a critical concern for anyone facing a medical malpractice case. The sooner you connect with our team, the more likely you are to maximize the total compensation you win from the medical professional who injured you.
Medical Negligence FAQs
Q: What Does an Aurora Medical Malpractice Attorney Do?
A: You can rely on your attorney for several valuable legal services throughout your case proceedings. They can make gathering evidence and completing the preliminary requirements of your case much easier. An experienced attorney can also know the various forms of damages you can seek with your claim and assist you in maximizing the total compensation you receive when you win your case. Ultimately, hiring an Aurora medical malpractice attorney not only increases your chances of success with your case, but you are also more likely to secure maximum compensation with their assistance.
Q: How Long Do I Have to File a Medical Malpractice Claim?
A: The standard statute of limitations in the state for medical malpractice claims is two years, and this time limit begins on the date an injury occurs. Alternatively, the statute of limitations may begin on the date you discovered the harm, in which case you have no more than three years from the date of your injury to file your case. However, if the defendant concealed their actions or if it was not possible for the plaintiff to discover the malpractice and the resulting harm, the time limit would begin on the date of discovery.
Q: Is Malpractice Insurance the Same as Liability Insurance?
A: Medical malpractice insurance is a specific type of professional liability insurance. This type of insurance coverage can help a covered professional account for any damages they cause through exercising their profession. Some medical professionals purchase medical malpractice insurance for security if they harm a patient through negligence, but this form of insurance is very expensive to maintain, and it is relatively rare for a doctor or other medical professional to have this insurance in Aurora.
Q: How Much Recompense Can I Claim for Medical Malpractice?
A: The total value of your medical malpractice case depends on the extent and seriousness of your damages. You have the right to seek full repayment of all economic losses you suffered because of the defendant's actions, and you have the right to seek compensation for the pain and suffering you experienced. Unfortunately, Colorado law caps both non-economic damages and total compensation for medical malpractice claims. The most a plaintiff can claim for pain and suffering is $300,000, and they can recover no more than $1 million in total for their claim, including economic damages.
Q: How Much Will Hiring an Aurora Medical Malpractice Attorney Cost Me?
A: When you hire Cheney, Galluzzi & Howard as your legal representatives in a medical malpractice case, we take your case on contingency. You only pay a fee if we win your case, and your fee will be a portion of the total compensation we secure on your behalf. There is no fee at all if our firm is unable to secure compensation for your claim for any reason, so you can approach your case with confidence, knowing we only get paid if and when you get paid.
The right Aurora medical malpractice attorney is an invaluable asset for your impending case. You can focus on your medical needs and your personal obligations while your legal team manages your case, keeping you informed with updates on your proceedings and helping you address any unexpected complications that might arise in your recovery efforts. Whatever your case entails, you can trust the team at Cheney, Galluzzi & Howard to guide you to a favorable outcome. Contact us today and schedule a free consultation with an Aurora medical malpractice attorney you can trust.