Aurora Sexual Assault Attorney
When someone suffers from sexual assault in Aurora, CO, that experience can affect them for many months to years. In some sexual assault cases, the person at fault is convicted of criminal charges and incarcerated, and the victim of assault can have some peace knowing that.
Victims of sexual assault should be aware that they can file claims against their abuser for compensation. If the person at fault has not faced criminal charges, a civil claim against them could make them face criminal court. Know that you are not alone and that you deserve compensation. Cheney Galluzzi & Howard want to help defend you and your rights.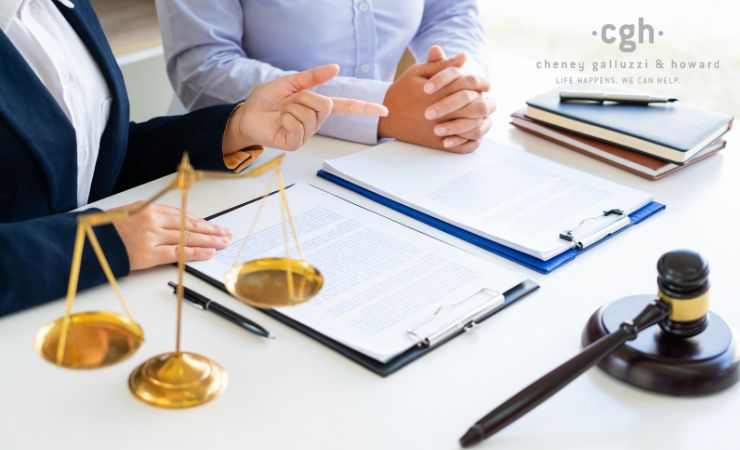 Cheney Galluzzi & Howard: Your Aurora Sexual Assault Victim Lawyers
Sexual assault cases are rarely easy for the person filing them. At Cheney Galluzzi & Howard, we've worked with and represented many individuals who have dealt with the traumatic aftermath of sexual assault and abuse. These claims often require victims to relive their experiences while other people discredit and scrutinize their trauma. It's an incredibly difficult situation. We are here to help and support the victims of these crimes as we search for justice.
Our attorneys will advocate fiercely for your interests but always are empathetic and compassionate when we work with you. You should never feel afraid or ashamed about your experience or worry that we will doubt your story. We want to help you and provide you with a clear understanding of your legal options.
What Is a Sexual Assault Claim?
Sexual assault and other sex crimes can be charged in criminal court, and the victim of these crimes can also file a civil claim to cover the physical and emotional damages they suffered. A sexual assault civil claim is similar to a personal injury case, where damages are based on negligence. Since the person has committed a crime, they are behaving negligently. However, the victim must prove that a crime was committed. A sexual assault claim covers several types of crimes, including:
Rape
Drug- or alcohol-induced sexual abuse
Commercial or personal sexual exploitation, also called trafficking
Intimate partner violence
Being forced or coerced into sexual acts
Unwanted sexual photos or video
Child sexual abuse
These are only some sexual crimes that result in a sexual assault charge or claim. If you're unsure if your situation warrants a claim, talk with a legal professional to determine what compensation may apply to your circumstances.
Why Do I Need a Sexual Assault Attorney?
Working with an attorney makes a claim less stressful and more likely to succeed. Taking on a sexual assault claim yourself can be hard. You will have to advocate for yourself, gather essential evidence, and have to relive your experience throughout all of that. An attorney can handle much of that for you. They can gather evidence and advocate on your behalf. Though you may still have to testify about your experience, you don't have to advocate for your interests against the defense. Many victims who try to advocate for themselves lose their claim for that reason.
Understanding the Burden of Proof in a Sexual Assault Claim
These cases are complex, especially since they often include both civil and criminal cases. In both situations, the prosecution has the burden of proof and must show how the defense is guilty beyond a reasonable doubt. In criminal cases, the prosecution is the state. They must prove that the person or institution accused of sex crimes is guilty.
In a civil case, this duty falls to the person filing the claim. The victim of the crime is the prosecution. A civil claim is the victim's only way to get monetary compensation for the harm they suffered. Proving beyond a reasonable doubt is a high burden of proof, but having a legal professional by your side can help. If the defense has already been convicted of criminal charges, this usually makes it easier to win a civil claim. An attorney can help victims determine what compensation they are owed.
FAQs
Q: What Evidence Is Used in a Sexual Assault Case?
A: The evidence used for a sexual assault case depends on the specifics of the case. Common types of evidence include:
Medical records, including rape kit results
Photos of physical injuries or damage
DNA and fluid test results
Eyewitnesses
CCTV footage
An attorney can work with you on your circumstances to determine what evidence is useful for your case and claim.
Q: Why Is It Hard to Prosecute Sexual Assault Cases?
A: A combination of many factors makes prosecuting sexual assault cases difficult. Often, there is not enough strong evidence to prove the defendant guilty beyond a reasonable doubt. Because of this high standard of proof, it can be difficult to prosecute. Additionally, even when there is DNA evidence or other overwhelming evidence, the defense will claim the acts that took place were consensual. The social stigma surrounding sexual assault cases also makes prosecution harder.
Q: How Do Most Sexual Assault Cases End?
A: Once sexual assault charges have been filed against someone, the case often ends in a plea bargain. This is an agreement between the prosecution and the defense, where the person or institution pleads guilty for a lesser sentence or other penalty reduction. An estimated ⅓ of sexual assaults are actually reported, and 16% of those reports lead to arrests. Of that small number of arrests made, only 50% of them lead to the actual incarceration of the offender.
Q: Why Don't Sexual Assault Cases Go to Trial?
A: Many sexual assault cases end in a plea bargain rather than a trial. One reason for this is it protects the victim of the crime from needing to relive their trauma and be under the scrutiny of the public as well as the defense. A plea bargain still punishes the offender.
Get in Touch With Us at Cheney Galluzzi & Howard Today
If you've been the victim of sexual assault, whether from an individual or institutional negligence, know that you're not alone. Let our experienced attorneys represent and support you during this challenging time and fight for justice. Contact Cheney Galluzzi & Howard today.