Westminster Medical Malpractice Lawyer
When you go to a doctor, chiropractor, hospital, or other medical practice in Westminster, CO, the last thing you expect to happen is to leave with a new ailment that you didn't have prior to coming. Sadly, that happens far more than we would hope. You also wouldn't expect your diagnosis to be incorrect or delayed. Nor would you expect to receive treatment that isn't effective when an effective treatment exists. However, these and so many other medical errors do happen. When these things occur, and they lead to further injury, you are owed restitution. Let Cheney Galluzzi & Howard help you get it.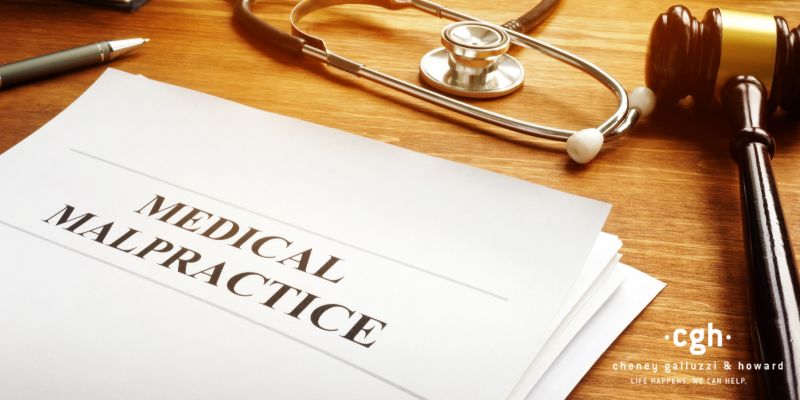 Possible Defendants
The potential defendants in a medical malpractice claim extend beyond just those who are diagnosing and executing the treatment. Medical institutions themselves can be held responsible for medical malpractice if something about their policies and procedures contributed to the injury. Some of the potentially liable parties in a medical malpractice claim include:
Nurses
Chiropractors
Pharmacists
Anesthesiologists
Hospitals
Surgery Centers
Negligence and Injury
The key to a medical malpractice claim, which is a kind of personal injury claim, is being able to show that a negligent action on the part of the medical staff or institution led directly to an injury. This could be an injury in addition to the ailment that you initially sought treatment for. It could be a significant delay in getting appropriate treatment for your ailment. It could also be an inappropriate treatment for your ailment. The key is to demonstrate that you were not given the standard of care that would be expected from a reasonably careful medical professional in your situation. It must be shown that something happened outside the norms of the industry. It then needs to be shown that the negligence led directly to your injury. At Cheney Galluzzi & Howard, we have the experience to properly investigate your case and craft a strong argument before the court to show that medical malpractice occurred.
Types of Medical Malpractice
Medical malpractice can take a variety of forms. It is a personal injury that occurs when working with healthcare professionals or in a medical setting. Some examples of medical malpractice include:
Delayed diagnosis
Misdiagnosis
Botched surgery
Being prescribed an inappropriate medication or dosage
Being provided the incorrect medication or dosage
Ordering the wrong medical tests
Misreading the results of the tests
Failure to obtain informed consent
Leaving surgical equipment inside patients
Giving unnecessary treatment
Damages
You may be able to receive restitution for your situation if you can show that your injury caused you to have to endure:
Psychological and emotional torment
Financial losses that may create future financial difficulty
Damages typically come in two forms and, occasionally, three. They are:
Economic Damages – These damages account for things like medical bills related to your injury and lost wages from time missing work due to your injury. It can even cover future medical bills or lost wages if the injury will continue to cause issues in the future.
Non-Economic Damages – These account for things that are generally unquantifiable, like mental anguish or pain and suffering. You must be able to argue that you suffered these things as a direct result of your injury.
Punitive Damages – These damages are meant to act as a punishment and deterrent for future behavior. They are only given if the court believes that there was something malicious or ill-intentioned about the medical malpractice.
Westminster Malpractice Lawyer FAQs
Q: Who Can Be Liable for Medical Malpractice in Colorado?
A: Anyone diagnosing or administering treatment could be guilty of medical malpractice. That means doctors, nurses, chiropractors, anesthesiologists, pharmacists, and so on. However, medical malpractice may extend beyond that. For instance, medical institutions, such as hospitals, could be found liable if they have policies and standard procedures that may have led to negligence and injury. We can take a look at your Westminster, Colorado, case and give you an idea of who may be liable.
Q: How Is "Standard of Care" Determined?
A: There's no strict definition for the standard of care. That's for a good reason. The practice of medicine evolves and shifts over time as new research, treatments, and technologies shape medical professionals' understanding of the optimal approach to different illnesses and ailments. Whether something failed to live up to a standard of care needs to take the most recent medical consensus into consideration. For that reason, the standard of care is based on how a medical professional might reasonably be expected to act given the same set of circumstances. This means that each case must be examined individually, which typically involves relying on expert witnesses to testify as to what the standard of care should have been.
Q: What Is Medical Malpractice in Colorado?
A: To put it concisely, medical malpractice is what happens when a medical professional or entity's negligence causes an injury, leading to suffering some combination of financial, emotional, and psychological loss. It's important to recognize that the negligence being considered must be shown to have led directly to the injury that occurred.
Q: What Is the Cap on Non-Economic Damages for Medical Malpractice in Colorado?
A: It's worth first noting that Colorado's medical malpractice damages caps have not been challenged on their constitutionality, although other states have had their caps struck down on those grounds. Therefore, the caps that currently apply today may not remain. That is something the courts will likely take up at some point. In the meantime, there are two caps in place:
$1 Million – This is the cap on the combination of economic and non-economic damages. However, it may be lifted in circumstances involving significant future medical costs or lost earnings.
$300,000 – This is a hard cap on non-economic damages.
Get What You're Owed
If you or someone close to you has been hurt by medical malpractice, you deserve compensation for what you've undergone. Unfortunately, you can't count on these institutions to follow through and do what they should. There's a good chance that, to get what you deserve, you are going to have to fight for it. You won't have to do it alone, though, because Cheney Galluzzi & Howard is ready to represent you and fight for what you're owed. Contact us about your case today.