Commerce City Car Accident Attorney
Car accidents are a leading cause of accidental injury and death throughout the United States, and every state has different legal statutes in place for resolving these incidents and helping victims recover. In Colorado, every driver is required to have auto insurance that includes liability coverage in the event they cause an accident. If another driver hits you, you have the right to start a claim against their insurance to seek money for your damages. However, if you suffered serious injuries, insurance alone may not fully compensate your losses.
Experienced Legal Representation for Commerce City Car Accident Claims
When you are unsure how to recover from a car accident in Commerce City, a car accident attorney is the best resource to consult. The team at Cheney Galluzzi & Howard has years of experience helping clients through all types of personal injury claims, including those arising from motor vehicle crashes. We can also assist our clients with filing auto insurance claims immediately following their accident. Whatever your situation requires, our goal is to help you recover as fully as possible in the shortest time possible.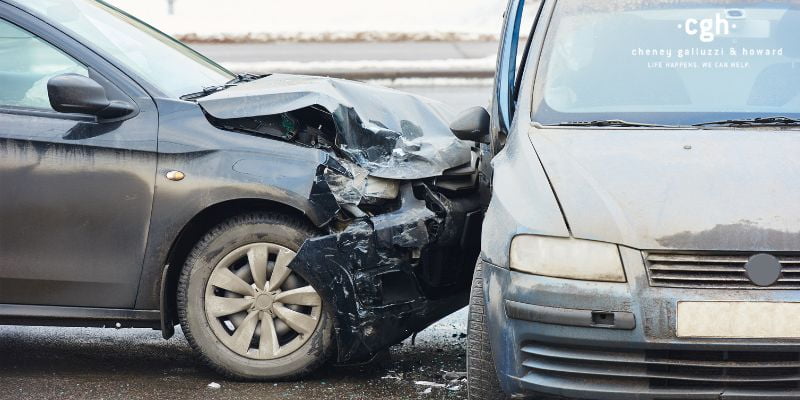 Proving Liability for Your Car Accident in Commerce City
The first step you must take in securing the compensation you legally deserve after your accident is proving fault for the accident. Some commonly cited causes of car accidents in the Commerce City area include:
Distracted driving. Whenever a driver does not pay full attention while driving, they increase their risk of causing a serious accident. Distracted driving is the top reported cause of all motor vehicle crashes in the United States each year.
Driving under the influence (DUI). Any driver who causes an accident in this manner faces criminal prosecution for DUI alongside a civil claim from the victim they injured. Penalties for DUI convictions automatically increase when the defendant has hurt or killed someone else with their actions.
Speeding. This not only increases the chances of a driver causing an accident, but also the severity of any resulting damages. Accidents at high speed are most likely to result in catastrophic injuries or deaths.
Moving violations, such as running stop signs or red lights, performing illegal turns, or failing to signal before turning. Any moving violation can disrupt traffic flow, startle other drivers, and cause a serious accident, especially in a busy metropolitan area with lots of traffic.
Reckless driving. Unfortunately, some drivers engage in moving violations intentionally or otherwise demonstrate a disregard for the safety of others. This can lead to criminal prosecution of the at-fault driver, and they are also liable for damages they cause to others.
Once you have determined the cause of your accident and identified the driver or drivers responsible, the next step in recovering your losses is filing an auto insurance claim against whoever caused the accident. Again, having an experienced Commerce City car accident attorney help with this significantly increases your chances of securing the greatest insurance settlement possible under the terms of the at-fault driver's policy.
Dealing With Insurance After a Commerce City Car Accident
Your attorney can help you file a demand letter to the at-fault driver's insurance carrier. This must explain the cause of your accident and an explanation of the damages you suffered. In addition, your attorney can help you review the at-fault driver's policy to ensure you receive an appropriate settlement offer from the insurance company.
Unfortunately, most insurance companies will look for any reason to deny your claim or justify the lowest possible settlement offer. Some will even engage in bad-faith tactics to undermine your right to claim compensation. Having an experienced attorney represent you will significantly reduce the chances of encountering this behavior. In addition, the insurance company will be more likely to process your claim in good faith as efficiently as possible once they notice you have legal representation.
Damages in a Personal Injury Claim
Even if you encounter no problems with your insurance claim, the settlement you receive may not fully cover your damages. In this situation, you must file a personal injury claim against the driver who hit you to recover full repayment of your losses. Under Colorado law, you are entitled to claim compensation for the following:
Medical expenses, including both immediate treatment costs incurred after your accident as well as any ongoing medical expenses you face for treatment and rehabilitation of serious injuries. Your attorney can help you gather any documentation needed to prove the full range of your claimable medical expenses.
Lost income. If you are forced to stay home from work while you recover, the defendant who injured you is liable for the income you cannot earn during this time. Additionally, if you are left with diminished earning capacity because of the injuries you suffered, the defendant is liable for your lost future income as well.
Property damage. Your auto insurance claim may yield compensation for the vehicle repair costs, but any outstanding property losses can be recovered as economic damages in your claim.
Pain and suffering. The state limits pain and suffering compensation to no more than $500,000 in most personal injury cases. This type of compensation aims to repay the physical pain and psychological distress you experienced from your accident, and your Commerce City car accident attorney is the best asset you have for maximizing this part of your case award.
Your case may be worth much more than you initially anticipated, but unlocking the full potential of your recovery efforts requires having legal counsel you can trust. The attorneys at Cheney Galluzzi & Howard have years of professional experience handling all types of motor vehicle accident claims, and our team takes time to develop individualized legal strategies for all clients we represent. The faster you hire our team to represent you in your car accident case, the more likely you are to recover your losses as fully as state law allows.
Auto Accidents FAQs
Q: Should You Call 911 After a Car Crash?
A: State law requires drivers to report any accident resulting in significant property damage, injury, or death. Failure to do so can lead to criminal penalties. It may not be technically required to report a minor fender-bender, but if there is any room for doubt, it is always best to err on the side of caution and report the accident. Doing so will create a formal police report to which you may need to refer later, and you will also avoid any potential penalties for failure to report your accident.
Q: How Do I Prove Liability for My Recent Car Accident in Commerce City?
A: Proving fault for a car accident is likely to require a combination of physical evidence from the scene of the accident, digital evidence like computer data from the vehicles involved, and drivers' cell phone records, traffic camera footage, and eyewitness statements. When disputes arise regarding liability for your accident, your Commerce City car accident attorney can help you obtain the evidence necessary for firmly establishing liability for your damages, potentially consulting with expert witnesses who can clarify the most contentious aspects of your claim.
Q: How Much Compensation Can I Secure for a Car Accident in Commerce City?
A: The total value of any car accident claim in Commerce City depends on the scope of damages the victim suffered because of the at-fault driver's actions. Your attorney can help you secure repayment of vehicle repair or replacement costs, medical expenses for treatment of your injuries, and compensation for lost income if the accident left you unable to work. You also have the right to pain and suffering compensation, but this is limited under state law. Working with an experienced Commerce City car accident attorney ensures the best chances of maximizing your total compensation.
Q: Is Hiring a Commerce City Car Accident Attorney Necessary?
A: While there may not be a law strictly requiring you to hire legal representation for your car accident claim, doing so provides the best chance of recovering as fully as the law allows. When you have experienced legal representation on your side, you are more likely to maximize your recovery in the shortest time possible. In addition, your attorney can help with your auto insurance claim and a subsequent personal injury suit against the at-fault driver.
Q: How Much Does It Cost to Hire Commerce City Car Accident Attorneys?
A: You do not need to worry about your legal expenses overshadowing your recovery from a car accident when you choose Cheney Galluzzi & Howard to represent you. We take personal injury cases on a contingency fee basis, meaning we only collect a fee if we win your case. Additionally, your fee is a percentage of the total compensation we secure for you. Therefore, there is no risk to having our firm represent you in your recovery efforts following a car accident in Commerce City.
The attorneys at Cheney Galluzzi & Howard have extensive professional experience handling a wide range of personal injury claims for clients in Commerce City and surrounding communities. We know how challenging it can be to approach your recovery process, and our goal is to help you streamline these proceedings as much as possible while ensuring the best results. If you are ready to learn how a Commerce City car crash attorney can improve your recovery efforts, contact us and set up your free consult with our team.