Colorado Springs Medical Malpractice Attorney
Medical professionals have a significant responsibility to care for their patients. Because of this, most medical workers go through many years of education and training to earn their positions. Unfortunately, this training is not always enough to protect patients.
Although mistakes can happen, some medical professionals act negligently while on the job. This can lead to serious illnesses, injuries, or other consequences for patients and their families. Fortunately, the law allows patients to take action when a medical worker's negligence leads to physical or psychological damage.
If you have been harmed by medical negligence, it is important to understand your rights and options. Our team of personal injury lawyers can help you navigate your situation. We can develop a legal case against those who harmed you.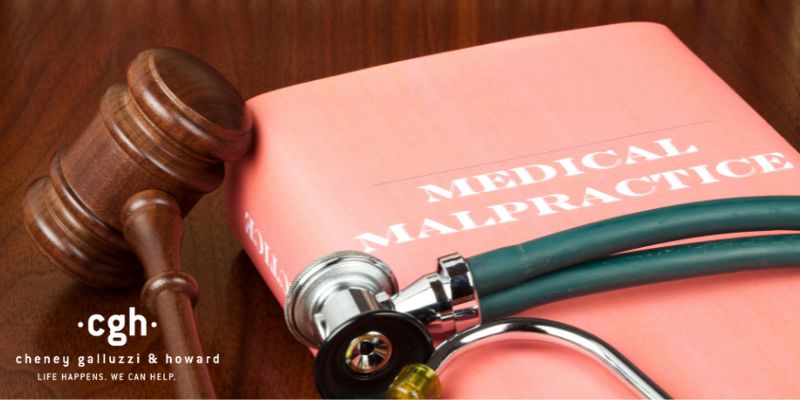 Cheney Galluzzi & Howard: Your Colorado Springs Medical Malpractice Attorneys
For many years, our team has been fighting for the personal rights and liberties of our clients. One of the fundamental cornerstones of our democracy is each individual's right to life. Others should not be able to harm you without facing consequences. Our mission is to help individuals and families create and file personal injury claims. We work to help them receive the compensation that they deserve after an injury has affected their health or personal safety.
Medical malpractice claims are complicated, and clients face a unique combination of physical and emotional distress. Many feel betrayed by those who were supposed to protect them. It is common for our clients to feel especially vulnerable during their case. Although we fight tenaciously for each client's rights, we also offer legal services that cater to the vulnerability and betrayal that many of our clients feel. You can trust us to be compassionate and patient as we go through this process together.
When you need a personal injury attorney in Colorado Springs, look no further than the experienced team at Cheney Galluzzi & Howard.
What Is a Medical Malpractice Case?
Medical malpractice is a broad term that encompasses any situation in which a medical professional neglects their responsibilities. It can also apply if they fail to meet the appropriate standard of care that is expected of them. This can occur in many different ways and in many different scenarios.
Because malpractice cases are a type of personal injury claim, negligence is key to winning. The law cannot hold an individual responsible for circumstances outside of their control. They are also not liable for an honest or mutual mistake. Rather, the defendant must have neglected their responsibility as a medical professional, causing harm to a patient.
Why Do I Need a Personal Injury Lawyer?
Medical malpractice cases are complicated, and many people misunderstand them. Accumulating the evidence necessary to properly fight for a settlement is a challenge, and one that many attorneys cannot navigate. It would be extremely difficult for an individual to win a medical malpractice claim without an attorney's assistance.
Medical establishments control vast resources. Most hospitals, clinics, and healthcare corporations have experienced attorneys on staff whose sole job is to fight malpractice claims. Because of their significant, direct experience in this area, you cannot hope to properly fight your claim without a legal professional of your own.
Additionally, many people are actively healing from the aftermath of medical malpractice while their claim is going through the legal system. If you try to fight your own claim, you will have to assemble evidence and formulate an airtight argument while going through physical rehabilitation. In many cases, patients lack the time and energy to formulate a proper legal plan. In other cases, doing so impedes their healing processes. For your health, safety, and financial security, it is in your interest to hire an experienced attorney.
Finally, patients who seek legal support from a professional attorney may be able to earn a higher settlement than those who try to fight for themselves. The latter often ends their claim without getting any compensation at all.
Types of Medical Malpractice Claims
As noted, medical malpractice is a significant area of the legal system. Because of this, there are many ways that medical abuse or mistreatment can happen. Common examples include:
Failing to provide proper bathing and hygiene practices to patients who need assistance
Operating on the wrong patient
Operating on the wrong limb
Leaving surgical tools inside the body cavity
Prescribing the wrong medication or dosage
Filling the wrong medication or dosage
Failing to diagnose a condition despite clear signs and symptoms
Diagnosing a condition despite a lack of clear signs and symptoms
This is not an exhaustive list of the types of medical malpractice that occur.
It is important to note that many of these cases are based on comparative behavior. For example, if other medical professionals with similar training and experience would have behaved differently in a similar situation, it is more likely that you will be able to prove that negligence occurred.
Medical malpractice is not a situation where a patient simply does not like their diagnosis or care regimen. Rather, it is when a medical professional fails to fulfill their obligations to the patient. For example, if you get a cancer diagnosis, you cannot sue for medical malpractice because you wish you did not have cancer. However, you could sue for medical malpractice if you have clear symptoms of cancer, and your doctor fails to properly test for the disease.
Emergencies and Medical Malpractice
EMTs, emergency room workers, and similar medical professionals are held to the same standards of medical malpractice as other doctors, despite the added urgency that their jobs entail. However, in certain emergency circumstances, you may not file a personal injury claim for medical malpractice.
Sometimes, a medical professional steps in during an emergency that is outside of the standard hospital, office, or clinic setting. If the individual is off the clock, they cannot be charged with medical malpractice if something goes wrong.
For example, you have a heart attack on an airplane, and another passenger happens to be a doctor. In that situation, you cannot sue them for medical malpractice if something goes awry. They are outside of their standard setting, without the proper tools of care, and are stepping in as a last resort to help.
Medical Malpractice Lawyers FAQs
Q: When Should I Get a Lawyer for Medical Malpractice?
A: Although you have up to two years to file a claim, it is important to hire a lawyer and begin the process as soon as possible. These cases take time to build and argue, and the longer you wait, the less time your attorney will have. Most importantly, however, key pieces of evidence can be lost if you wait to hire an attorney. As soon as you believe that you have a medical malpractice claim, contact Cheney Galluzzi & Howard.
Q: What Qualifies as Medical Malpractice?
A: There are many situations that qualify as medical malpractice. Examples include:
Neglecting a patient's needs
Failing to diagnose an obvious condition
Misprescribing medications
Operating on the wrong limb
Any time a medical professional fails to fulfill their obligations or neglects their patients, they are liable for medical malpractice. If you are unsure of whether you have a case, or you want to begin the process, talk to our experienced team at Cheney Galluzzi & Howard.
Q: How Do I Prove a Medical Malpractice Claim?
A: As with any type of case, evidence is key to proving medical malpractice. The type of evidence that you collect will depend on your situation. Evidence that can help you prove that medical malpractice has occurred include:
Medical records
Tests
X-rays
Second opinions
Eyewitness accounts
Photos of the injury
If you believe you have a malpractice case, do not sign any waivers or speak with any insurance companies or lawyers other than your own. Cheney Galluzzi & Howard can help.
Q: What Counts as Medical Malpractice?
A: There are many situations that count as medical malpractice. At their core, these cases all involve a situation in which a medical professional neglected their responsibility to care for their patients. Although this is a broad term, it is the most effective way to summarize medical malpractice claims. Common examples of these claims include:
Operating on the wrong patient
Misdiagnosing a condition despite obvious contrary evidence
Neglecting a patient's hygiene
Mis-administering prescriptions
Q: How Much Does a Medical Malpractice Lawyer Cost?
A: All firms charge differently for their services. However, many personal injury lawyers charge a percentage of the ultimate settlement. Others charge hourly for legal services. To be sure that you understand and consent to the expenses involved, talk at length to potential attorneys about their charges and fees. This ensures that you can afford their services for the duration of your claim.
Contact Cheney Galluzzi & Howard
Our team at Cheney Galluzzi & Howard has direct experience in medical malpractice claims. We offer comprehensive personal injury services in Colorado Springs. We are here to discuss your situation with you. Our firm can help you find a way forward that works for you and your family.
For more information, contact Cheney Galluzzi & Howard.