Colorado Springs Sexual Assault Attorney
Although our bodies should be under our control, other people's actions can easily put our physical and mental health in jeopardy. Even if you make a distinct effort to stay safe, someone else can ruin it through neglect, malice, or poor decision-making.
Sexual assault is a prime example of a way in which another person can jeopardize your physical and mental health. Unfortunately, these situations are fairly common and can significantly affect the victim for months or years to come.
If you have been sexually assaulted in Colorado Springs, CO, you need to know that you are not alone. Sex crimes are strictly prohibited under both federal and state laws, and you can take action if someone violates these rules. With the help of a sexual assault attorney, you can file a claim to receive compensation for what you have endured. It can also bring charges against the individual or group that hurt you.
Our team at Cheney Galluzzi & Howard is here to support you during this difficult time.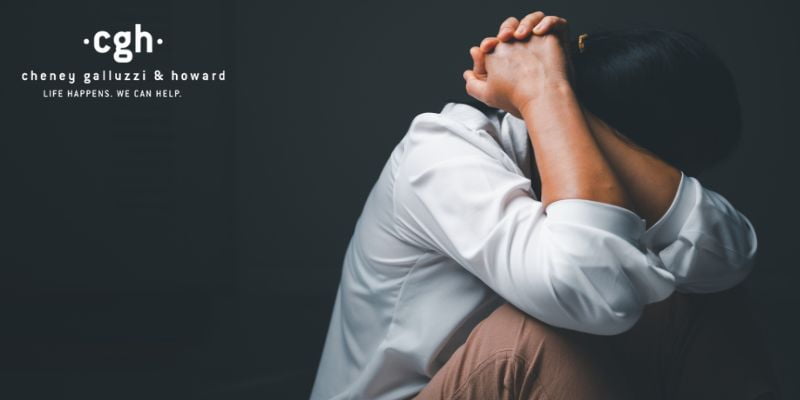 Cheney Galluzzi & Howard: Your Colorado Springs Attorneys for Sexual Assault Cases
During our time in business, our team has represented many clients after sexual abuse. Although these cases are heartbreaking and difficult, we work diligently to bring the proper civil and criminal charges against sex offenders. We have no patience for those who believe that they can violate others' personal liberties. Our attorneys fight diligently for justice when such a wrong has occurred. We do not rest until we believe that we have done everything possible to achieve justice in your case.
Although we are tenacious and relentless in sexual assault cases, we understand how complicated and difficult these situations are for the victim and their families. You may be asked to relive the experience, and there will be others who are trying to discredit your perspective. Because of this, we provide caring, compassionate legal care to our clients. We can fight diligently in the courtroom. However, we provide empathy and patience in our individual meetings with you. You can trust us to believe you and your story.
For strong, reliable sexual assault legal advocates, trust Cheney Galluzzi & Howard.
What Is a Sexual Assault Case?
Sexual assault occurs any time one person commits a sexual act on or against another person without their consent. This includes:
Rape
Personal or professional sexual services (trafficking)
Intimate partner violence
Forcing a victim to participate in sexual acts
Taking unwanted sexual photos or videos of the victim
Force or coercion into sexual activity
This is not a complete list of the activities that count as sexual assault. If someone forced you to engage in sexual activities, or perpetuated sexual activities against you, without your consent, you may have a sexual assault claim.
Why Do I Need a Sexual Assault Attorney?
Sexual assault charges are incredibly complicated. Although the situation likely seems obvious to you, the law promises everyone a fair trial. This means that you must prove beyond a reasonable doubt that the sexual assault occurred to achieve justice. The law requires a set of complete and irrefutable evidence to convict someone of a criminal act such as sexual assault. Accumulating this evidence is challenging and often emotionally difficult for victims to accomplish on their own. An attorney is a great asset in this regard.
Unfortunately, many sexual assault cases ask victims to recount or relive their traumatic experiences. The defense will attempt to discredit your account. They may try to make you seem irrational or crazy for making the accusation. This can cause further trauma, especially if you are fighting for your own case. With an attorney's help, you have someone to advocate for you. This allows you more emotional freedom. It also ensures that your case does not fall apart if you find it difficult to be in the courtroom.
For your sake and the sake of others, it is important to win your claim. The most effective way to do this is with the help of a qualified sexual assault attorney. Investing in a professional lawyer increases the likelihood that your abuser will face justice. It may also protect others from enduring the same fate.
Burden of Proof
The United States judicial system puts the burden of proof on the prosecution. In other words, the person who is bringing the charges forward must prove that the person they are accusing did what they claim that they did. The defendant is innocent until proven guilty by the prosecution. In criminal cases, the state acts as the prosecution. In civil matters, whoever is seeking compensation is the prosecutor.
Sexual assault cases are complicated because they can be both civil and criminal in nature. Although sexual assault is a criminal offense, the only way to get compensation as a victim is through a civil claim. Because of this, there may be both a civil and criminal case against your offender.
If your offender was found guilty of criminal charges, it may be easier to prove your civil case. In these scenarios, you may need to focus instead on the damage that the event caused you. You likely would not need to spend as much time proving whether the event occurred.
An experienced attorney understands the burden of proof. They can also help you understand the prosecution's responsibility. Our team at Cheney Galluzzi & Howard has acted as the prosecution in hundreds of civil cases. We are confident that we can help you navigate your sexual assault claim.
Types of Evidence in a Sexual Assault Claim
The types of evidence available in your case will depend on the unique circumstances and details of your situation. Some common types of evidence that are helpful in sexual assault cases include:
Medical records, including results of rape kits and evaluations
Photos of any physical injuries
Eyewitness accounts
CCTV or video footage
DNA results
There may be additional types of evidence that aid in building your case. An attorney can help you determine what kinds of evidence are necessary and how to obtain them.
Although it may be uncomfortable, it is important to seek medical care as soon as possible after a sexual assault. The results of medical testing are key in sexual assault claims. They may even make the difference between charging your offender and allowing them to walk free. Seek medical care right away if you can, and refrain from participating in any hygiene practices before undergoing tests.
FAQs
Q: Who Has the Burden of Proof for Sexual Assault in Colorado?
A: The prosecution has the burden of proof in all American judicial scenarios, including sexual assault claims. If you are bringing charges against another person for committing sexual assault against you, you are the prosecution and must prove that the defense assaulted you. The defense is considered innocent until proven guilty, and they do not have the burden of proving their innocence. With this significant responsibility in mind, hire a qualified attorney to represent you in your Colorado sexual assault claim.
Q: What Are the Charges for Sexual Assault in Colorado?
A: The charges for sexual assault depend on the nature of the offense. Although all sexual assault offenses are unacceptable, more serious offenses like rape can result in fines of up to $750,000 and 4–10 years in prison. More minor offenses, such as unwanted sexual touching, may result in a less serious charge, depending on the circumstances.
If you would like to understand the types of charges that your offender will face, speak directly to an attorney about your unique situation.
Q: How Long Does It Take to Solve a Sexual Assault Case?
A: Unfortunately, it commonly takes two years or more from the time of the assault to the charging phase. Although having an attorney can slightly expedite this situation, there is no guarantee that the process will proceed quickly. This is one reason why it is important to act quickly after a sexual assault occurs. The more time you have for your claim, the more likely you are to finish your case before the statute of limitations expires.
Q: What Should I Look for in a Colorado Sexual Assault Lawyer?
A: When looking for an attorney, the most important consideration is experience. You want to find legal representation with direct experience in cases that are very similar to yours. With sensitive topics like sexual assault, it is also essential to find an attorney with whom you feel comfortable. You will need to recount a traumatic event and potentially relive it. Because of this, it is important to trust your attorney.
Q: How Much Does a Sexual Assault Attorney Cost?
A: Although attorney fees vary depending on the firm and case, this is especially true for sexual assault claims. Be sure to speak to potential attorneys about their policies and fee structures before you hire them. Some attorneys may charge hourly, while others charge a percentage of your settlement. It is important to be clear about finances before beginning a claim.
Contact Cheney Galluzzi & Howard
Our attorneys are here to represent you and your family after a sexual assault. Contact Cheney Galluzzi & Howard to get started.