Wheat Ridge Medical Malpractice Lawyer
Medical malpractice is a specific area of personal injury law that pertains to the professional duties that medical providers owe to their patients. Medical professionals such as doctors, nurses, surgeons, and others all have a responsibility to prevent harm to their patients at all times and to adhere to each patient's standard of care. The term "standard of care" is central to most medical malpractice cases and defines the type of treatment a patient requires for their condition.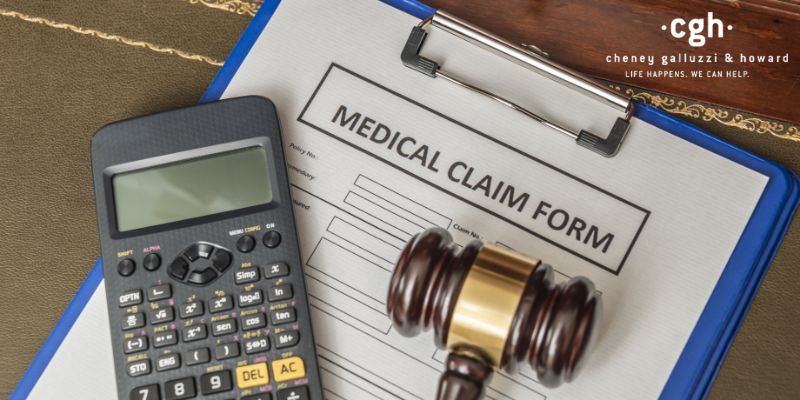 Medical Malpractice Representation in Wheat Ridge, CO
A medical malpractice claim can arise from various situations, most of which entail some type of professional negligence. If you have been injured by a medical professional in Wheat Ridge, a medical malpractice attorney can help determine whether you have grounds for a civil case against them. The attorneys at Cheney Galluzzi & Howard have helped many past clients through all types of medical malpractice cases in Wheat Ridge and surrounding communities of Colorado, and we are confident in our ability to handle your case's unique challenges.
Building Your Medical Malpractice Suit in Wheat Ridge
The objective of a medical malpractice suit is for the plaintiff to ensure accountability and compensation for the damages they suffered. Success with a medical malpractice case requires accurate identification of the defendant or defendants responsible for causing the injury and clear proof of the full extent of the damages resulting from the incident. Medical malpractice can happen in many ways, and it's vital to not only prove that a medical professional was negligent but also that their negligence directly caused your claimed damages.
Certificate of Review Must Be Obtained
You will need to obtain a certificate of review from a medical professional who holds the same credentials as the defendant in your case. This means they must have the same medical board certifications. This individual must explain why your claim does not lack standing and provide details as to how the defendant violated the standard of care for the situation. You must submit this certificate to the defendant within 60 days of filing your claim. The claim must also include a complete list of the damages you are seeking from the defendant.
Cheney Galluzzi & Howard can work closely with you through all phases of your medical malpractice claim, assisting you in gathering the materials needed to file your claim successfully and meeting all applicable deadlines and other procedural requirements. We can also assist you in proving the full extent of the damages you can claim in your suit. While state law limits recovery in medical malpractice claims, our goal is to help you recover the maximum allowable compensation under Colorado's medical malpractice statutes.
Malpractice Claims FAQs
Q: What Are the Most Common Types of Medical Malpractice?
A: One of the most commonly cited types of medical malpractice is misdiagnosis. Any physician responsible for diagnosing patients is required to follow a differential diagnosis procedure that accurately identifies the patient's condition through a process of elimination and careful consideration of their symptoms. When doctors fail to diagnose a patient accurately, deliver an incorrect diagnosis, or fail to provide a timely diagnosis due to negligence of any kind, this can form the basis of a medical malpractice suit.
Q: How Long Do I Have to File a Medical Malpractice Claim in Wheat Ridge?
A: Similar to most other types of personal injury claims, medical malpractice suits are beholden to a statute of limitations or time limit for filing claims. You must file your suit within two years of the date your malpractice occurred or from the date you discovered the harm done to you. However, there is an overarching three-year statute that applies if you discover harm later than when it actually occurred.
Q: How Much Compensation Can I Claim for Medical Malpractice?
A: Colorado enforces two limits on damages in medical malpractice suits. First is a $300,000 cap on non-economic damages, meaning this is as much as a plaintiff can receive in compensation for their pain and suffering. There is an additional $1 million cap on total damages, including economic and non-economic damages. It is possible for some claimants to have this cap waived as it pertains to their economic damages if they can produce evidence that their economic losses far exceed the cap.
Q: How Long Does It Take to Resolve a Medical Malpractice Case in Wheat Ridge?
A: The time your case will require to reach a conclusion largely depends on whether the defendant accepts liability for your damages and agrees to settlement negotiations. When you have an experienced Wheat Ridge medical malpractice attorney representing you in settlement negotiations, you could potentially resolve your case within a few weeks to a few months. However, if your case needs to be resolved in the courtroom, litigation can take several months or even longer than a year to complete.
Q: How Much Are Attorneys' Fees for a Wheat Ridge Medical Malpractice Attorney?
A: It's natural to worry about the potential cost of hiring an attorney if you are already facing the economic fallout of an injury from medical malpractice. When you hire Cheney Galluzzi & Howard to represent your case, we will only take a percentage of the total compensation won from the defendant as our fee after we resolve your case. If our team is unable to secure a recovery for you, there is no fee, so there is no need to worry about your legal fees eclipsing your final case award.
The team at Cheney Galluzzi & Howard has successfully represented many clients in a wide range of medical malpractice cases in Wheat Ridge and surrounding communities. We know the various challenges you might encounter as you seek compensation for the losses you suffered, and we know how to help our client maximize their recovery as fully as state law allows. Contact our team today to make an appointment for your free consultation with an experienced Wheat Ridge medical malpractice attorney to learn how we can help navigate your case with confidence.